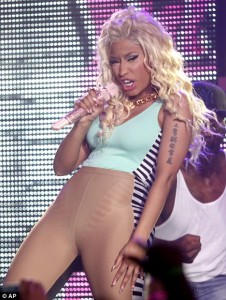 Close followers of Nicki Minaj have been left waiting with bated breath over the weekend, as news emerges that Dublin may be in the firing line for Minaj's list of cancelled shows.
UPDATE 20.08.12: Nicki Minaj has confirmed this show is cancelled.
The 29 year old rapper, whose Dublin show sold out in minutes, took to Twitter late last week claiming that she had bruised vocal chords and was under orders not to perform. Originally she battled on through a concert, but claimed she had no voice by the end of it. As a result, Minaj posted on Twitter that 2 UK Festivals and Dublin would be missed.
While fans kept their fingers crossed, The Daily Mail reported this morning that Nicki Minaj has indeed missed the V Festival this weekend, with a representative insisting Nicki would have to back out of a number or shows citing "strained vocal chords".
According to the festival organisers, Nicki Minaj arrived in the UK but decided to follow doctor's orders which were to "rest for a week". That would include the cancellation of the Dublin show this Tuesday.
Rap Ireland will bring you further updates on any rescheduled date as we hear it.
UPDATE 20.08.12: Show Cancelled. Refunds Available from Ticketmaster.ie