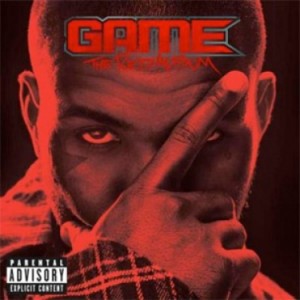 On August 23rd, Compton rapper Game is set to finally release his much delayed R.E.D album, and now we have the official track-listing for the star studded affair.
We've already had a taste of what to expect; the first release featuring Lil Wayne was the controversial Red Nation track, which MTV and BET both banned the video of, claiming that it glorified gang violence!! The current single is the Chris Brown featured Pot Of Gold which proves a more deep hearted track as Game delves into his inner emotions.
Game recently revealed that Dr. Dre would somehow feature on the album, and from the listing we can see that his former mentor not only narrates the album, but also delivers a verse on the track Drug Test.
The entire listing is as follows ;
Dr. Dre (Intro)

The City feat. Kendrick Lamar


Drug Test feat. Dr. Dre, Snoop Dogg, & Sly


Martians vs. Goblins feat. Tyler, the Creator & Lil Wayne


Red Nation feat. Lil Wayne


Dr. Dre 1 (Interlude)


Good Girls Go Bad feat. Drake


Ricky


The Good, The Bad, The Ugly

Heavy Artillery feat. Rick Ross & Beanie Sigel


Paramedics feat. Young Jeezy


Speakers on Blast feat. E-40 & Big Boi

Hello feat. Lloyd


All the Way Gone feat. Mario & Wale


Pot of Gold feat. Chris Brown


Dr. Dre 2 (Interlude)

All I Know feat. Luu Breeze


Born in the Trap


Mama Knows feat. Nelly Furtado


California Dream

Dr. Dre (Outro)
After taking lighthearted shots at just about everybody in the rap game on his recent diss track Uncle Otis, you wouldn't think that Game would have many friends willing to show their appreciation, but the guests on this album just show the love and respect that he commands as an artist. August 23rd see R.E.D.