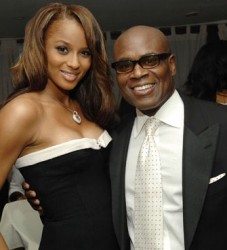 Back in July, former Island/Def Jam Chairman L.A Reid took over Sony Music's Epic Records and the X-Factor judge has wasted no time "erasing the company's tarnished image and rebuilding its roster." The mogul has reportedly made it a point to bring former LaFace/Jive acts and beloved hip hop duo OutKast and R&B star Ciara over to the label.
Ciara's first album Goodies was released through LaFace/Jive back in 2004. It featured the hit song "1, 2 Step" and has sold more than 2.5 million copies. Her most recent release, 2010's Basic Instinct, came out via Jive Records.
Both Outkast and Ciara expressed frustration with Jive since Reid's departure. Outkast's Big Boi accused Jive of not clearing Andre 3000 feature "Lookin' For Ya", and back in Febuary Ciara took to Facebook and told fans:
"I pray that my label will release me…it's at that point where I feel we don't share the same views on who I am as an artist."
"L.A. Reid has been busy erasing the company's tarnished image and rebuilding its roster, which will soon include Outkast and Ciara, sources tell The Hollywood Reporter," said Shirley Halperin of The Hollywood Reporter. "Reid has a long history with both acts, who were originally signed to his LaFace Records."
Reid initially signed Outkast to LaFace in the 1990s. Its been a minute since Andre 3000 and Big Boi released an album together five years in-all but Big Boi has promised that there would be new Outkast music in 2012 and a signing to Epic would only further the chances of that music being released.