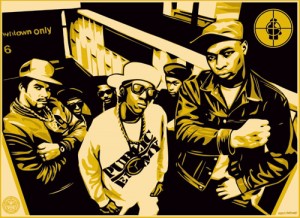 After being voted as the Best UK Festival of 2010 at the UK Festival Awards, Bestival is back and continues its eclectically entertaining tradition with this year's mix of Rock Stars, Pop Stars and Divas.
The big news for Hiphop fans is that seemingly confirmed this week were the hugely controversial and always supremely entertaining Public Enemy as headliners.
Formed in Long Island, New York back in 1982 "The Enemy" have consistently been the fore runners in politically charged and media baiting lyrical content. Never afraid to voice their opinions, courting controversy with songs such as "Don't Believe the Hype" and having defined the genre of Hip Hop Rock, a live show by this brilliantly talented group is guaranteed to get the place rocking.
Radio 1 DJ and festival organizer Rob da Bank let the announcement slip in a tweet on Tuesday evening. "Oops just seem to have let it slip that public enemy are comin to bestival as a festi exclusive."
The group will be performing a plethora of their greatest hits including the brilliant and hugely influential "Fight the Power" (voted as the most influential Hip Hop track of all time) and "Public Enemy No1". Other Hiphop acts set to play the 2011 festival include Diplo, DJ Shadow, A Trak and the legendary Grandmaster Flash.
Check out The Bestival homepage for all the latest line up news.
PE – Say It Like It Really Is

Subscribe Below for Weekly Updates on Latest News & Events