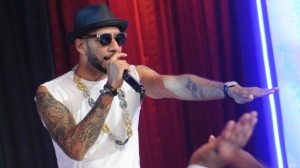 If Swizz Beatz thought his legal issues were behind him, he was sorely mistaken. This week Swizz has found himself centre stage once again, unable to avoid being embroiled in the international piracy case against Megaupload after attorneys for the United States government have attempted to use his link to the site to bring charges against MegaUpload in the U.S.
This is a highly significant development, as prior to this American authorities had been unable to prosecute due to  the site and its operators being headquartered in Hong Kong.
At the time the website was shut down Swizz Beatz, born Kaseem Dean, was listed as the CEO and had been vocal about his involvement with the site. This changed quickly last January when the Department of Justice shut down the website. At that point Swizzy's lawyer claimed that in reality Dean was only attached in name to the company.
U.S. Attorney Neil MacBride is now challenging that claim, having come forth with proof that Beatz was active with the company. He says that the super producer represented Megaupload before the United States Trade Representative in 2011, indicating that he was more than just a name on the website.
Since Beatz is an American, MacBride and the DOJ will attempt to bring charges against the company here.
So far, Beatz has refused to cooperate with the government. If he is issued a subpoena, however, he won't have a choice.