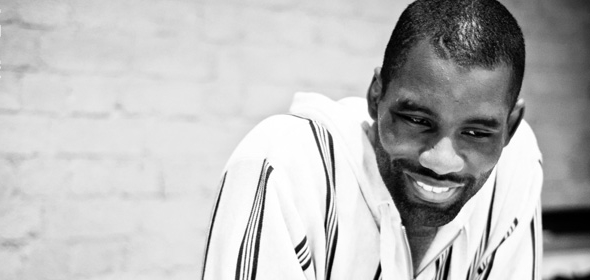 From the London Underground movement, the Grime scene, as is its nature, has evolved, multiplied and reinvented itself into the stand out genre of the past few years.
With an ever evolving sound and artists who seemingly have no issues at all with imprinting their own unique style on any given sample or beat, UK Grime is continuing a pace to enhance it's ever  increasing foot hold on the musical physche.
Words: Sean Doyle Interview: Sean Doyle & Kev Storrs
With a seemingly endless stream of former Grime MC's leaping into the popular charts, many following in the footsteps of Dizzee Rascal and Tinie Tempah, it is becoming clear that the Grime scene's prominence is here for the long haul, down in no small part to the abundance of talent that in its beginnings stalked the underground clubs and dancehalls of London.
One such MC is Wretch 32, the son of a reggae DJ from Tottenham, North London. Wretch (real name Jermaine Scott) has long been established as a top Grime MC, a former member of the collectives "Combination Chain Gang" and "The Movement" which included Scorcher, Ghetts, Devlin and Mercston. This unique and talented Grime officiando has had huge underground success with the release of a host of mixtapes, one of which won him the 1xtra mixtape of the year award,  and collaborations which ultimately earlier this year led to recognition from, and indeed the opportunity to perform with, the legendary P Diddy.

Having been named  as the BBC's "Sound of 2011", Wretch 32 released his first commercial single in January 2011 and the success of "Traktor" propelled his talents into the mainstream. A further 2 singles and an album "Black and White" have since followed along with performances at Glastonbury  and Belsonic amongst others.
So it was that Rap Ireland got to chat with the man himself just before his Arthurs Day Headline slot at the Savoy Theatre Cork.
Rap Ireland:  Firstly congratulations on a fabulous 2011 so far, any highlights!?
Wretch 32:  The whole thing man. But especially running out at Wembley's open stadium and performing "Unorthodox" with Example. That was definitely a highlight for me.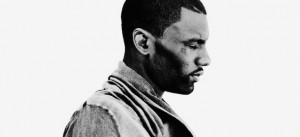 Rap Ireland: What about the performance with Diddy?
Wretch 32:  Yeah that was definitely a memorable moment. Diddy didn't have to reach out and show love but he did. It was nice of him man. He's a cool guy and a great role model.
Rap Ireland: What does it feel like now after grinding for so many years just to get to this level, to now be able to come to another country and sell out shows?
Wretch 32: It feels surreal man, it proper feels funny like its not something you just get used to you know. But for me its like ok now I feel like there is so much more to do still. So I am always looking for new tasks and you know I suppose that's how it gets cause theres always new territory to tap into.
Rap Ireland:  After having the couple of big hits that you have had where do you go from here?
Wretch 32: For me its about really pushing the Album. You know the Album is done. It's done very well in the first 2 weeks, so we are just continuing to push it. Just keep pushing until the wheels fall off literally! Then you work on the next one, so it's got to be about concluding a project.
Rap Ireland:   So what can we expect to hear from you next; is it going to stay Grime or because of the chart success are you influenced more to go the commercial route?
Wretch 32: It's a funny thing with me. My music has always been the same. It's the same kinda music but of a better quality. You know I have always kinda had tracks like "Don't Go" from my first and second mixtapes, but it just so happens that at this time now it can actually get out. People are listening. So for me nothing really changes just the work rate. It's the work rate that changes more than the music.
Rap Ireland: What do you get the biggest kick from, is it the recording or the performing?
Wretch 32:  A bit of both man. You love recording the track but then you cant wait for everyone to hear it you know what I mean? So it goes hand in hand; I couldn't imagine recording a track and not being able to perform it. Yeah it's weird.
Rap Ireland: Do you find now that as things are so instant for example with Facebook and Twitter that things are more in the artist's hands now more so than the labels?
Wretch 32:  Yeah, you know the artist can just fire a tweet out at any time. We got our own youtube channels, we can just fire out something on Youtube, is good because now it's like directly straight to the fans rather than dilly dallying. It's good. It's nice to be in that kind of position.
Rap Ireland:  What do you think of the prominence of the Grime scene at the moment?
Wretch 32:  I think there is huge talent there. I think you know we had a lot to prove and we have done extremely well but I think there's more to come. You know there's more barriers to get over and I think we still got a long way to go.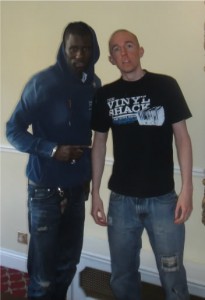 Rap Ireland:  Do you find now that breaking into the mainstream there is still the connection to the collective of artists who were helping each other out before, do you still help all the others up with you?
Wretch 32: Yeah 100%. Like if you type in Wretch 32 on Youtube you see me working with all the underground artists; the good ones that have fan bases. You know what I'm saying because its important that we still show the unity. You work with who you think is good and you work with who you like and I think that's the only way underground people are gonna get exposed. Of course I can't go and do a song with everyone, there just isn't time, but you know you work with who you feel is gonna come through or who you feel has got a good shot and yeah it works out.
Rap Ireland: If there was one artist that you would say helped you out and took you to this level from the UK, who would it be?
Wretch 32: I think Chipmunk did quite a lot for me man. You know, obviously we done a mixtape together and, you know, going on his tour and stuff. It's good; you get a different amount of exposure. But of course Pro Green put me on his tour, so did Tinie Tempah, you know, and of course now I'm putting Scorcher and Sincere on my tour so its like it keeps relating. And Sincere and Scorcher will put whoever's next up on their tour and then it keeps feeding in and it's good man. We gotta keep it doing it like it is.
Rap Ireland: And what Artist would you ideally like to work with?
Wretch 32: It would be Damien Marley. I really like his style man. I would really love to work with him. Hopefully we see whats up in the next record.
Rap Ireland: What can Irish fans expect from your live shows?
Wretch 32: I am just trying to die on the stage just as simple as that. I just like going in man. Just give it my all and enjoy it
Rap Ireland: What you expecting from the Irish crowd?
Wretch 32:  I am just expecting a good vibe.  Hopefully everyone's a bit tipsy you know.
Rap Ireland: As it is Arthurs Day whats your favourite drink?
Wretch 32: Disaronno! I had a Guinness yesterday though.
Rap Ireland: What did you think?
Wretch 32: Interesting! It feels like a full on drink, like a meal! And you know me, I don't eat a lot, I'm skinny as hell so a few of them I be bloating up!
Rap Ireland: You mentioned the work rate earlier, so what would a typical day in your life be like now?
Wretch 32:  It's a lot of interviews. Don't get to write as much, you know travelling and shows.
Rap Ireland: Because of the way the music industry is at the moment  do you find you have to be out every night just gigging non-stop to be able to make your money?
Wretch 32: Yeah, you gotta be able to tick over man. At the end of the day it's a business and you gotta work hard at the way you make your money and gigging is where the money is man so I'm out as much as possible.
Rap Ireland: Do you find it is the Label or your management who push you on to work harder?
Wretch 32: It's a bit of both but you know the way we've come up we've always been grinders so our natural thing is to find a new thing, the next territory, and you know that's just how our minds are set. We're always looking for new shit.
Rap Ireland: What were the pitfalls that you guys in the UK went through that the Artists in Ireland can watch out for?
Wretch 32: I think sometimes its just about proving. You know, quite a lot of the times you'd say we should be getting this or we should be getting that but when you just continue to go and you build your own little fan base you know it kinda proof that you've got something going on. So it's like now they have to let you in or they have to put you on the stage because you got fans. So it's just about working and building up your fan base whichever way you know how.
Rap Ireland: What were your thoughts on the London Riots could you relate to what some of the people who were rioting were going through?
Wretch 32: For me it was just wild man you know it was just crazy watching it. It's one of those things where if something like that happens you actually don't even know what to say. It kinda leaves everybody speechless. Especially when you are unsure how you even feel about it. I think it's mad. I think they are rioting for a reason but I still think the rioting's mad man.
Rap Ireland: Was it difficult to formulate a response, as you rely on the streets to relate to you so don't want to back away from them but at the same time you don't want to be irresponsible and say keep rioting?
Wretch 32: Yeah that was definitely probably the hardest thing for me and you just gotta be careful what you say.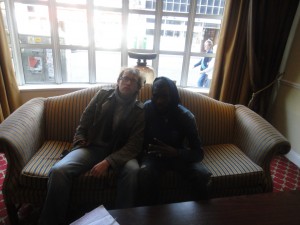 Rap Ireland: Ok so getting back to the music what would be your favourite track to perform?
Wretch 32: Now I've been really into a new track which we've added to the set and the album. 'Sanes the New Mad'. Really enjoy doing that one man. Its new, it's fresh, it got a good vibe and just represents where my head's at now.
Rap Ireland:  What can we expect from you in the future, say 6 months down the line?
Wretch 32: Erm just more music, more music, more appearances, more shows, more tweets, more graft; everything. I cant tell you anything specifically because I don't know what tomorrow holds but there will definitely be new shit.
Rap Ireland:  Lastly, if you could name one act, who would you say is the next one to come up?
Wretch 32: It's interesting, there's a few popping up man, you know, Scorcher and Sincere. I also think G Fresh. Yeah there's gonna be a few. Maxsta he's doing alright aswell.