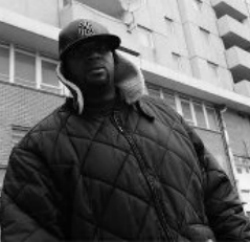 Cyrus Malachi has emerged as one of the UK's most talented and creative lyricists. Known for his work with groups Triple Darkness and The Orphans of Cush, the Londoner made his mark as a solo artist last year with the release of debut album 'Ancient Future'. The LP, equally honest and intense, was one of 2011's true highlights. A prolific writer, Malachi is already putting the finishing touches to album number two.
Rap Ireland caught up with Cyrus to discuss the new record, his career in rap, and why Hiphop may well be a dying art form.
Words: Duan Greally
RAP IRELAND: Let's start off by talking a little bit about about your background. For those who don't yet know, tell us how you got your start in rap?
CYRUS MALACHI: I first came into the game around 2007 – featuring on M9's first mixtape 'High Fidelity'. Then in the following year, my crew Triple Darkness released our first album 'Anathema'. That album had actually been completed since 2005, but because of troubles with labels and just going through the process of getting it out as a manufactured product, we didn't get a deal done till about 2008.
RAP IRELAND: Going back to that very early part of your career, did your influences at that time come from the local Hiphop scene or did you look more towards American artists as an influence?
CYRUS MALACHI: I would say it was a bit of both really. I have been into UK Hiphop since what I call it's golden age, which is around 2001. I was a fan of US Hiphop since like 93, so I kinda knew about both scenes. Obviously with US Hiphop there is a longer history, but there are definitely a few UK albums which hold sentimental value.
RAP IRELAND: Do you remember what inspired you to start writing in the first place?
CYRUS MALACHI: It started with me and a guy called Crown Nectar. We both started rapping back when we were like 16 or something. Unfortunately, I had a stint in jail, but I was still communicating with him via mail. We kept sending rhymes back and forth. We decided that when I got out, we were going to try do a little rap thing. So when I finally got out, that's when I started looking into doing some recording and things like that.
RAP IRELAND: Then obviously, as you said, your first major exposure was on the Triple Darkness material. What was that like as an experience?
CYRUS MALACHI: Yeah, it was dope. I mean the Triple Darkness album happened so quickly as well. Like I said, it was done in about 05. It only took about five or six months altogether. It all just flowed. Definitely a good experience. They're very talented writers so it was great to work with them and create that music. When you are around quality emcees, you are vibing off each others energy, and it makes you step up your game. When you are surrounded with quality, it rubs off on you as well.
RAP IRELAND: Do you think that time working with Triple Darkness helped prepare you for when it came time to put out your own solo records? What did you take from that period that stands to you today?
CYRUS MALACHI: Just learning the art of emceeing and how everything works. I learned things about the game as well on a business level. It gave me experience. It was about developing and mastering my own style. It definitely helped to bolster my foundation. It helps on all different levels whether that's writing, performing, conceptualizing, or just understanding your own style.
RAP IRELAND: Your first solo album, 'Ancient Future', came out last year. How do you feel the response has been to it?
CYRUS MALACHI: I think the response was good.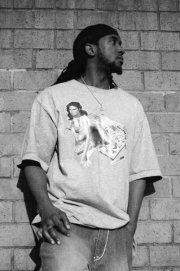 It's having a kind of late ripple, where as now I'm really seeing the impact it had. I'm very humbled. Don't get me wrong, I was always very, very happy with how far it got out there. It was in over 100 physical stores in America, it was in Europe, it was in Australia. It seemed to be getting some form of critical acclaim, but now I'm seeing the effects of that even more. People have been able to bubble on it. Those who might not have picked it up, have picked it up, whether that's illegally or legally. It seems to be really out there now and I'm getting a lot of feedback from all over the world. I get people messaging me all the time from all these different places. They all say the same thing; they really love the album, so I know it has had an effect in that way.
I would have liked more people to buy it, but it would be naive to think every person who wants to hear it is going to go and buy it. The reality is they can just download it for free from within the four walls of where they live and listen to it. I can't necessarily blame them because we're in the age of the internet and that's what the internet has done, but it obviously doesn't work out that great for the artists.
RAP IRELAND: It's very difficult for an artist to sustain music as their career.

CYRUS MALACHI: My only worry is for underground Hiphop because it is on the decline. If there are people who come after myself and the other artists today, will they be put off sooner because there is so little out there for an underground artist? There's hardly anything man. A lot of people say to me: "your album literally reduced me to tears". If an album has that kind of emotion and that kind of power, it should do something for the artist to. That's without sounding like a whining baby; it's just trying to be honest. It's not just me – there are so many artists out there who produce really good quality music with substance and a message, and what they are getting in return for it is criminal. It's sad.
We need to be careful because the commercial plague has infected everything. If we don't try support these artists there may be a day when they just stop and there's no one to replace them. We're just going to be immersed in this crap we have today. It won't make you feel like when you heard 'Liquid Swords' or 'Capital Punishment' or some of the great 2Pac albums. It's very empty. Yeah, maybe it's catchy because major labels make sure it gets played every two minutes until it becomes a popular song, but we can't lie to ourselves and say this bullshit is really moving us because it isn't. That's my worry more as a music lover – away from my own career.
RAP IRELAND: I guess one of the things with music today is that it can be very easy to put out an album, but very difficult to get anyone to actually hear it. There's so much clutter it's hard for anybody to get noticed. Why do you think you have been able to make that break through and get people listening?
CYRUS MALACHI: I have been lucky that independent labels have picked me up and they have allocated a budget for my work. I'm very grateful that that has happened especially with Ancient Future on No Cure records. They have done a lot for me. It's because of their promotion, the various distribution deals they got me, all the blog coverage – that is what has allowed my music to travel. The internet has helped to, but obviously they have been able to harness the internet to promote it. I'm not one of those guys who say: "Fuck labels" and all that. Labels have helped me out. No Cure to me is like what Rawkus used to be; A real label that are going to do the best they can for you. They put out artist who make real fucking Hiphop bruv.
RAP IRELAND: 'Animal Circus' is probably one of the most talked about tracks on the album. You mention on it that the UK had its own golden age starting back around 2001. Do you think the UK scene has lost its way a bit since than?
CYRUS MALACHI: I think it has lost it's way. Simply because that old stable of very gifted emcees have reached a certain age now where it's the sunset of their careers. Promoters don't want to book artists anymore. If they do book artists, it's going to be those same artists from that 2001 era. I don't think I had any more than about two shows last year, and that's off the back of Ancient Future. I couldn't even get a release party for Ancient Future. That tells you where the scene is: there is no scene.
I'm just trying to make good music that, if anything, leaves a mark, and finds its way into Hiphop purveyors collections. That's about it now. It sounds a bit pessimistic, but there is no point living in an illusion. This shit obviously hasn't made me a millionaire or anything, but I'm hoping that it's a testament people will continue to hum across over the years. The people who do seek out proper Hiphop; hopefully it will inspire them.
RAP IRELAND: OK, let's move on to the new album. It's coming out on First Son records, which is of course an Irish label. How did that arrangement come about?
CYRUS MALACHI: It came about how all my deals come about. I'm just quite lucky really. I'm grateful that somebody is willing to take it on, allocate a budget to it, and put promotion behind it because the way my life is, I'm way too busy to even do that stuff; so I'm just grateful that it came about. It all just came together over a phone call really. Ruairi Hartigan (First Son Records) was up for it, so we discussed it, and came up with an agreement for the release. The album is going to be called 'Black Athena'.
RAP IRELAND: Who have you been working with for this release?
CYRUS MALACHI: There's no US artists on there. That's not really deliberate. It would have been nice to have some on there, but I wanted to get the album out early in 2012, so the time constraints didn't really allow for it. It's more just UK guys. There are not many features on there – the usual suspects who always pop up on my albums; Iron Braydz, Melanin 9, Tesla's ghost, Solar Black. All of those collabos are sandwiched onto about 4 tracks, so the remaining 12 tracks are just me all on my own.
RAP IRELAND: What should people expect from this album? Do you feel it picks up where Ancient Future has left of, or is this something different again?
CYRUS MALACHI: No, it's definitely an evolution. Lyrically, I would say it's better. I have worked on my flow, I have worked my phonetic precision and things like that. It's basically like Ancient Future evolved lyrically; that's how I would explain it. I would say it's a continuation. It hasn't got as many strong concepts, it's more of a pure writer's album. To describe it metaphorically, if Ancient future is my 'The Infamous', Black Athena is my 'Hell on Earth'. It's pure hardcore Hiphop. I'm not trying to tone it down or make it more accessible, it's just fuckin' hard bars bruv.
RAP IRELAND: When can we expect the album to drop? Do you have a release date yet?
CYRUS MALACHI: Ideally, I wanted it to drop in March, but that's not going to happen now. I would probably say April/May. I would have liked it to be earlier, but the deal with First Son Records didn't even come that long ago, so in a sense we're a bit behind schedule on it.
RAP IRELAND: What's the next step moving forward once you have got the album out there? Will you take some time away from writing? Maybe focus more on touring and doing live shows?
CYRUS MALACHI: That's if I get some shows, I'd be lucky mate. I had two shows in England last year. In 2008 I did over sixty shows in England. It's where the scene has gone; there is no scene, there are no shows. I don't want to be negative, but I don't expect to be inundated with shows – not in Britain anyway. I will definitely be doing a show in Ireland though. I'm going to be doing a show in France. I would say I will probably end up doing more around Europe than in Britain.
I'm just making the best music that I can and trying to find a vehicle to get that music out; that's it. I just want to make good pure music and try to surpass myself. Ancient Future will probably go down as my classic, but Black Athena is lyrically more advanced. It's the best stuff I would say I have done lyrically, maybe not as strong conceptually, but it's the most advanced writing I have ever done.
RAP IRELAND: Do you have any other projects coming up people should keep an eye out for?
CYRUS MALACHI: I'm also working on a duo album now with M9. I would like to get that out in the later part of 2012. Possibly another Triple Darkness album to, but that's lagged a bit. It should be coming though. It will just take a little while. After that…I can't really say what will happen with my career because there comes a point as an artist when you feel you are not being rewarded for what you are doing. Black Athena is going to come out literally a year after Ancient Future, that's off the back of Ancient Future and two mixtapes, so I have put in quite a lot of work. Hopefully that will bubble for a while, then we will see if I end up doing a third solo album. I think I would like to, but we will have to see.
RAP IRELAND: Just before we finish up, is there anything else you would like to add?

CYRUS MALACHI: Not really, just to all Hiphop listeners, try and buy the music. I appreciate it's easy to download. We have all done it; I'm not going to lie and say I haven't, but we need to try support artists more because all we are going to do is discourage more talented artists from wanting to continue a career.
When you are an adult, and you have got kids and things like that, you have to come up with money. If this shit isn't getting you money, there will probably come a time when you just have to walk away from it. We need to be careful because we are losing Hiphop. Yes, there is still an underground scene, and rap is still very big globally, but that gap between commercial mainstream Hiphop and underground Hiphop is getting bigger and bigger – just like the gap between rich and poor in society – it's becoming huge.
If we don't start investing in it, there may be a time when it's just not there anymore. Then your only choice will be Wiz Khalifa or Soulja Boy or shit like that. What's out there now commercially is not hiphop…at all…in any shape or form. And I wouldn't call it an evolution of Hiphop either, no way. If anything, its devolution. So if you love the music, try to buy an album now and again. Try to support the hardcore artists.
Black Athena by Cyrus Malachi is coming soon on First Son Records.
For more on Cyrus check out: Facebook / Twitter / First Son Records