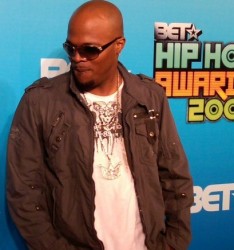 At only 14 years old, Chicago born RnB/Soul singer Danny Boy was signed to the infamous Death Row Records at the peak of the label's popularity. In 1994, Danny Boy made his debut on the Murder Was The Case soundtrack, with the R&B chart hit "Come When I Call", produced by DJ Quik. During his career, Danny Boy worked with some of the most iconic musicians in hiphop and is most notable for his features on the popular 2pac hits "I Ain't Mad At Cha", "Toss It Up" and "Picture Me Rolling". Upon Leaving Death Row, Danny Boy set up his own record label entitled 'Eclectic Soul Music Group' (ESMG) and is soon to release his double disc solo album entitled Love Offering.Darren Mc Nelis recently caught up with the humble singer to speak about his new album, his past at Death Row, his memories of Tupac, and MORE.
Words: Darren Mc Nelis
Check out excerpts from the interview below and listen to the attached audio for the full interview.:
Where did your name Danny Boy come from?
I had a brother that was born on the same day as myself, October 31st, and his name was Gary. He passed a couple of weeks later. The next year I was born on Halloween and on the way to the hospital the song Jackie Wilson was singing (sings Oh Danny Boy)[was on the radio] . My Dad told me that they went to the hospital and they were trying to figure out what to name me, and that's the name they came up with. It was one of my mothers favourite songs.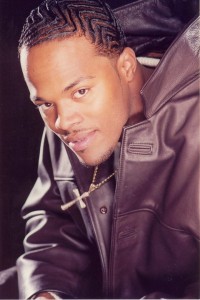 I've recently seen pictures of you and (rapper) Sam Sneed together; what's going on there?
Man you know Sam Sneed and I were signed to the same record label, Death Row Records. You know what was so crazy is I had the opportunity to work with Sam back in the day in California, and I hadn't seen a lot of the Death Row people. I came here to Atlanta, I knew Sam was here, and one of my boys from over-seas (Darren) came over and gave me the opportunity to hook up something that was totally missing. To me it was like a healing of the past, so to say, to be able to work with someone and see somebody that come from where I come from, the struggles. So me and Sam got together and there was a great spirit around. I really enjoyed it so hopefully ya'll be seeing a lot more work from Sam Sneed and myself.
Did you work on any tracks while he was there?
Yes we made a hit man. It was incredible working with him.
Were yourself and Nate Dogg close? Do have any memorable memories of your time together at Death Row?
Being a part of Death Row, I can say we had to have a sense of closeness being on a label like that. We were always working together back when Death Row was in its' heyday; when all those great records were being made. I always looked up to Nate Dogg. I called him the hook master; I mean if Nate Dogg was on it, you gotta believe that it was gonna be a hit. He was a great guy. I didn't have the opportunity to spend a lot of personal time with him, you know it was like going to work with somebody and we always worked together, always in the studio together, you know we joked around as a studio family, but I think it was great loss to this family. Such a great talent gone at a young age,and such a great loss to the music industry aswell.
Did you get a chance to work on anything with him?
If you were on Death Row you worked with everybody. Everybody got to do at least one song which each other. Nate would bring you that old-school, remind you of church voice. As for myself, I come from church, but our voices were so different. He was so soulful. Yeh we did get a chance to work together, like I said, Nate will be greatly missed. Nate paved the way for alot of artists like myself.
15 years ago Tupac was shot dead in Las Vegas. I heard you say at your concert that you were meant to be in that same car?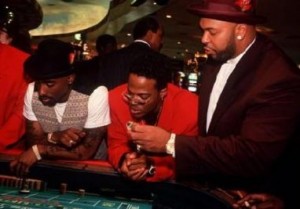 Man you know what was crazy was we were all dressing for the (Mike Tyson) fight and usually Pac, Suge and myself would be in the same car. Everybody that was around that time, they knew that. Somehow I got something red on the back of my pants and I was on my way downstairs to get in the back of the car and I called Suge and told him what happened. He was like "go to the Mall and grab you something else, me and Pac will go on to the fight". So I went across the street to the Mall in Vegas. Pac and Suge went on to the fight, and by the time I got what I was going to wear I couldn't find a seamstress to sow the bottom of the pants up, so I went and got some tape. By the time I was ready to go to the fight, I called Suge and he said "aw man we're out, Tyson just knocked dude out, it's over, meet us at the afterparty".
I was at the club (662) and I waited for him to call and after a couple of hours went by his security guards came in and said that Pac and Suge had been murdered, that's what the word was, and things just went wild after that. Yeah I was supposed to be in the car and I think that I was definitely favoured, if that's the right word? I owe God for saving my life and giving me another opportunity. I mean, Pac would always play shot-gun- who'll be in the front seat, who'll be in the back seat and this and that man, but I wish I had of seen it coming, or could somehow have prevented it or had knowledge of it. Again, that's another artist that has gone too soon, a legend gone too soon, over nonsense really.
Where were you at the time that he died?
I had just left the hospital that night. They were receiving so many threats that they were going to kill him, finish what hadn't been done. We were doing so many things to make sure Pac was alright, coz so many threats were coming in, and so many weird peoples were coming to the hospital so we went out surrounding the hospital all night. Early that morning I went to sleep in the hotel and man I didn't wake up. I was woken by security and one of the homies come into my room and jumped on my bed crying saying "he's gone". So I immediately got out of bed, to the valet, and as soon as I got into the car you could just hear every station playing 2pac, and people were calling in from all over to the Vegas radio stations and just crying on the radio. It was horrible… it was a very eerie feeling, and I didn't believe it was real. I had the chance to go to the hospital and there were thousands of people outside, holding his posters up and playing his music everywhere, crying.

Did you get to see him before they brought his body away?
Like I said, I seen him that night, we would stand there and pray. One thing I remember like, I remember deep in my heart standing with his mother, and we prayed, and his mother said "sing"- ya know sing something to him, and I stood there and I sang one of Pac's favourite songs. It was actually one of the first songs I had the opportunity to sing with Pac when we picked him up from jail. I sang (sing's Sam Cookes: A Change is Gonna Come) and I could see tears rolling out of Pac's eyes, tears just rolling out of his eyes into his ears. So that was the last time I had the opportunity to actually see him. When I got to the hospital (after he passed) he had already been removed. As soon as I walked in, every nurse that was working with him- they like became apart of the Death Row immediate family because they were really trying their best to take care of him and comfort us or help us out- they all came out the door apologising, saying sorry to hear about Tupac, he was a great loss. So yeh, I didn't get to see him, after that the next time I seen Pac he was in an urn.
Do you have any idea who could have caused the shooting? Were there any names floating around at the time?
There were so many rumours man, and so many things have been said. Everybody put their own imagination to it and came up with things. I just know that there was a fight earlier that Pac was in with a guy, and later on that day Pac was shot ya know. So, if I was the person investigating the crime I think that would be the first person that I'd have talked to, and that person was never questioned about his murder. You know there's a lot of funny business that went on. I think the police knew exactly what was going on aswell because they didn't show any concern in trying to find out who did it so it's just a weird thing.
Do you think the murder will ever be solved?
It's something that will never be solved. It is real sad because it leaves everybody who was a part of it wanting to know who did it.
How many tracks did you and Pac do together? I recently heard the "Checkout Time" remix and you're on it, so new tracks keep popping up?
Hey man you've heard something that I didn't even hear but if there was singing on it; if Nate Dogg or Danny Boy wasn't on it then like there was no singing on it. The new company/estate or whatever they are over there, they changed a lot of things and a lot of songs, and they put all these new singers on them. I don't have a problem with it coz some of the songs were cool, but some of the songs I think took the originality away from it. Those are the songs I know I recorded. Some of these songs that these guys be singing- (the songs) they'd replaced me on, I would remember the parts that I put on them. I've done so many songs with him, it's ridiculous. I don't remember how many songs it was.
Tell me about your new album, Love Offering. You have a new single out called "Nothing". Where does the meaning behind the name come from and just explain a bit about it for me?
I have a record label that's called 'Eclectic Soul Music Group' (ESMG) which you can find some more information about on my facebook.  This new album Love Offering means so much to me man because it's like a double CD. You be able to purchase it individually if that's what you want, just go to I-Tunes. Love Offering means so much to me because I'm able to express how I feel musically aswell as spiritually.
The "Love" disc is an RnB/Soul disc. It's talking about different types of love I had in my life and lost, the winnings of love, how to love. So I think that album is covering a lot of bases that I think people are missing, that relationships are missing. I had the opportunity to work with some great producers on this album. The first single was called 'Nothin' and I did that song with a producer by the name of Don Vito. Shout out to him and producer/writer Sean Penn. Nothin' means so much to me because during the time I was working on this record, I'd been in love and experienced so many things. I was going through a divorce at that point, and this song 'Nothin', you know it's like doing Maths, one thing I used to always say to girls when they be arguing was "whatever you put into this, is what you gonna get out of it -nothing plus nothing equals nothing". So it's amazing that we ran into a song that's like that. So, this song was so well-painted, you know what I mean, the brush that Sean Penn used on this song, I don't want to say the pen but the brush strategically painted this song and I feel like it covered a lot of basis in my life. Nothin' is the first single- It's available on I-tunes.
The "Offering" Disc is a gospel, inspirational disc, and what I'm doing is getting the opportunity in my spiritual life, being a saved man, now I'm trying my best to have a great relationship with God. We know that God is love, and we know that relationships is missing love. It's often that in the midst of having this love, we have to have a spiritual balance, so, we put together a project called Love Offering, to kinda balance out life. I'm speaking from a spiritual side. I'm speaking from ya know the cold side of Danny Boy, the hurt and the pain that I've been through. I'm offering this to heal that pain. So I hope everybody will like it.
I actually had the pleasure of sitting in and listening to you record a few songs, they are all new songs just in case anybody's wondering. I'm looking forward to it…
I'm excited man because I've been away for so long, and finally having the opportunity to come back and do an independent project, and have great investment behind me to help me do this project, somebody that totally believes. I want to send a shout-out to those that totally believe in my career and my music, and just having the opportunity to go in the studio and do what we love doing is a blessing man. We want to be able to give this organic project and hopefully be able to come to theatres and clubs and churches everywhere to present this music.
You were recently working on an autobiography; how is that coming along?
Once I'm finished with the recordings and mixing and all those things, I'll get back to working on the book. Hopefully we can kind of start working on those things together because I'm out at different events, I'm doing lectures, speaking at youth events, speaking to community centres and different things like that, so I think that book is going to play a great part. It'll be a great element to what we're doing. I think it's a connection, ya know it connects the story. The book is going to tell you in writing about what I've been through, the things I've experienced been on Death Row and the questions people always ask – 'how's Suge Knight" and all those things are going to be the book. And where I am spiritually, all those things are going to be in that book so I think that's going to help people put the whole story together.
Is there anything you would like to add?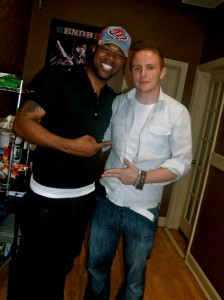 I would like to thank God for giving me the opportunity again to do what I love. I'm praying aswell everyday to stay humble and patient and keep the faith in what I'm doing. To artists out there trying to grind and trying do this music thing, it can get rough but stick to it. To my team, to Billy that's always with me and always looking out for me, and to Darius my business manager- I appreciate what you're doing, and just the team man. Darren I thank you man, you all the way over there and you came to the States to even try help with the projects. There are so many people that I'm blessed to have as friends and have as constituents in this business. I appreciate that, and I appreciate y'all man.
Took a lot to put together the project. You know everybody say they have a record label, it's a lot to it. There's a lot of people you have to connect the dots with to make different things happen. So to all those people that are behind the scenes, that helped me pull those things together, I appreciate you. God Bless you, keep pushing y'all. R.I.P Tupac, I guess I should say Sleep in Peace, that's what I think- go ahead and sleep in peace man. You been working since you been gone with all the hits that came out. And thank everybody that has, I don't even have to say thank you because he's earned the applause, people love him, y'all love him, but thank y'all for supporting Tupac, God Bless his family.
Where can people find out about you, get in touch with you?
Make sure y'all go to my facebook, or you can go to my twitter. Add me please- y'all can tell I don't have enough friends haha… or you can hit me at PlatinumPearlInc@gmail.com
Danny Boy Interview Full Edit by kaz1888