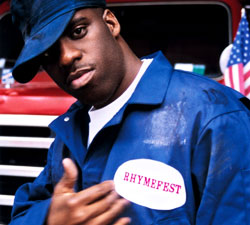 As Rhymefest, Che Smith has received international acclaim as both a Grammy winning songwriter and a freestyle battle champion. His 2006 major label debut "Blue Collar" showcased his intense lyricism, wit, and versatility, and saw him team with the likes of Kanye West, ODB and Mark Ronson. Rhymefest is now back working as an independent artist having left the major labels behind. With one classic album already under his belt he prepares for the launch of his sophomore release "El Che".
Rap Ireland caught up with Rhymefest to discuss the new record, label issues, his novel approach to touring, and battling in Ireland.
Words: Duan Greally
RAP IRELAND: I know a lot of people have been waiting on a new Rhymefest release. It's been nearly four years since your last studio album. What's been going on with Rhymefest?
RHYMEFEST: For the people who have stuck it out with me and been patient, I have given them a lot of new music. I blessed them with "The Manual" which was a homage to classic Hiphop -golden era Hiphop- which had Greg Nice, CL Smooth, Queen Latifah, like all original songs. And recently, I released Dangerous 5-18; another pre-album, that's really ill. Not only have people been getting music
from Rhymefest, they have been getting free music. And not only have they been getting free music, they have been getting music that is better than the majority of albums that have been released in the last four years.
RAP IRELAND: Let's talk about the new album. What can the fans expect from this record? How does it compare with "Blue Collar"?
RHYMEFEST: It's very different than Blue Collar. I would definitely say on "El Che" Rhymefest is taking himself a little more serious than on Blue Collar. On Blue Collar you will have a "Build Me Up Buttercup" or "Tell A Story" which were great tunes, but there are not any tunes like that on this record. On this record you will have something like a song I did called "Truth On You" where I say if people keep lying about me, and spreading rumours about me, well then I'm going to tell the truth about everybody else, and that's going to be much worse than any lie you can tell on me. So what I do in the song is I go over what I have heard people in the street say about me. It's kind of like I'm dissing myself. Then a buddy of mine disses himself. Then at the end he disses me from innuendo that he's heard from other people, and I diss him from innuendo that I have heard from other people about him. We have songs like "City Is Fallen" or "Say Whassup" and it's definitely a more serious side of Rhymefest on this album.
RAP IRELAND: You mentioned the album title is El Che. Is the Rhymefest moniker something that you are looking to move away from now, and maybe just be Che?
RHYMEFEST: Che is my real name, and I think at this stage in my career it describes more of who I am and what I have evolved into as more than just a rapper. Rhymefest is great for that guy who is going out freestyling and battling, and for that early stage of my career. But at this stage of my career, it's not that I'm not hungry, it's just that I'm more thoughtful. I'm a little more wise. I move a little smoother. I move a little more like Che than I do like Rhymefest.
RAP IRELAND: On your new mixtape, Dangerous 5-18, you talk a lot about your frustration with the rap industry and how commercialised it is. Now you have parted ways with J Records for this release. Can you tell us about that situation?
RHYMEFEST: Well you know, I don't make it a habit (to blame the label). I can't blame the label for anything, for everything I can only blame myself. I can only look and say, what could I have done better? Even if I could have told the label, No this is not what I am doing, I'm not coming out with this song. They are things I could have done to handle myself better. We can't go around in life and blame our failure or success on the backs of other people or corporations. We can't let them have that much power over our life. So when I parted ways from J Records, it was like OK obviously I can't make the kind of music I want to make here, and you all don't believe in the kind of music I want to make to where you want to put it out.
It wasn't like we are going to drop you. It was worse than that. It was we're going to hold you. We are going to hold you till you acclimate. So what happens is you start becoming old. Your fans start starving for music and going else where, and so I asked them to let me go.
RAP IRELAND: Now that you are independent, do you feel refreshed as an artist?
RHYMEFEST: It's two fold. On one hand, it's like I finally get to make the type of music I want to make. On the other hand, when you are so used to being on that label, you have to get out of that whole program. You ever see an independent artist that is so great, and they get signed to a label and in the end they just become part of the whole program. Do you know what I'm saying? Before people really heard Rhymefest as an independent artist, they heard me as a major label artist. Now back as an independent artist I have to deprogram myself. On this album I had to work to deprogram myself from what the label would have liked, and that was a challenge.
And also, do you realise that on the label they never gave you any of the contacts. They would send you for an interview here, go do radio here, but you would never really know the people who could hook it up. Now as an independent artist it's like oh shit, where do I go to promote this again? What do I do? Who do we know over there? Nobody is doing it for you.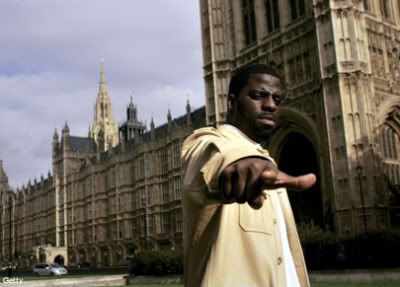 RAP IRELAND: Now, you have of course worked with a who's who of producers in the past. Who did you work along side for El Che?
RHYMEFEST: For El Che, I wanted to go for new people. I wanted to go for freshness. I wanted to go with people who cared about me as an artist and not just what the budget was. So I worked with a guy named S1, who is a producer with an independent group called the Strange Fruit Project. Now S1 is great: this guy is like the new J Dilla. He did four joints on this album. I worked with an up and coming group from DC, who has worked with Wale before called Best Kept Secret. These guys are hot, young, very motivated, and have a brand new sound. I worked with BKS, of course a buddy of mine named Scram Jones in New York. I had the opportunity to work with producers like Lil' John and stuff like that, but I just really felt that it would be more for publicity than it would be because we were sitting in a room really hacking something out. And if I'm going to be independent, I got to do the right thing.
RAP IRELAND: You mentioned Lil' John there, I saw the video of you working with him on your website. You said in it that you felt Hip Hop is separated in two at the moment. Why do you think that is? What is causing that divide?
RHYMEFEST: The way Hip-Hop has been corporatized, it's all split. If you listen to Rhymefest, you probably don't listen to Young Jeezy. If you listen to 50 Cent, you are probably not listening to Kanye. But isn't this all Hip-Hop? Do people who listen to Maroon 5 then go and say I can't listen to Aerosmith. In Hiphop it's been separated so that the corporations can sell it easier, and make it more digestible. But in that you are separating people and music, and you are killing the music slowly. It's a used car salesman way of selling music.
RAP IRELAND: I wanted to take you back for a second. When you were coming up in the game who were influences on you, and maybe inspired your style a little bit?
RHYMEFEST: I always said that if I could mix the gangster of Scarface with the story telling genius of Slick Rick and the humour of ODB, then I would have the perfect rapper.
RAP IRELAND: I know you have been out doing live shows. You did a showcase there at South By SouthWest (SXSW). How did you find that as an experience, and how was the new material being received by the fans?
RHYMEFEST: SXSW was great. I love Texas. Texas is a music place that doesn't get the notoriety it deserves. It just gets one kind of light as far as Hip-Hop is concerned and it has a variety of sounds. The people are so beautiful. I liked it a lot. SXSW was the first time I ever got to see a group that play with sitars. They did more of an Arabian style music. It was good because the live shows were more than just Hiphop, but it was good music.
RAP IRELAND: Tell us about the idea behind the El Che motorcycle diaries tour?
RHYMEFEST: Man, you are the first one to ask me about that. It was a beautiful thing. If you read the history of Che Guevara, you know that he did a tour of South America where he just wanted to get with the people and see how the people lived. So I said this would be the perfect opportunity for me to have a Che moment within America. When I went on tour with Rakim, I stayed in the homes of different fans. In 35 different cities, I stayed with 35 different families. Everyday was a new family, everyday was a new fan, and everyday was a new experience. It was beautiful. I stayed with married couples, I stayed in a frat house, I stayed with a young single girl who invited me because she thought I was homophobic and she wanted to talk to me about my feelings about homosexuals. We stayed in awkward places, uncomfortable places. I stayed with a guy whose wife wouldn't let me stay in their home so he had me stay with his sister and her seven month old child. It was crazy. I stayed with a guy who invited us to stay with him in New Orleans, and when we got there he treated us like pieces of shit. He ignored us, and brought a girl over and fucked her in his room, and we were just sitting there, you know what I mean. I stayed with a couple who was going through a divorce.
It was just so many experiences of people in America, and it helped me to shape music.
I want to do it in Europe, I want to do it in Africa. I want to do Rhymefest gets famous in Africa; like a guy who has made it in the U.S and is trying to make it in another country.
RAP IRELAND: Last time you were here in Dublin, you battled a local rapper Rob Kelly. Do you have any memories of that?
RHYMEFEST: I do remember battling Rob Kelly, and I don't think Rob recounts the experience correctly. Rob is cool. Before I even get into that, Rob is my boy. I came over and battled him. I beat him. The crowd said that I beat him. I beat him in his town, in his country. And even if he says I didn't win, for the fact that it was even a competition with a foreigner in his country means he lost. This should not have been any competition. I mean come on Rob, are you going to come to Chicago and battle Rhymefest and even almost win. It's not going to happen. I beat him in Ireland…In Dublin.
I got love for Ireland. My most recent experience in Ireland was when I went to Belfast. I was in Belfast on St. Patrick's day. It was the day I was supposed to go home, and I lost my passport. I got to the airport and they were not going to let me fly without a passport. They couldn't give me a passport until they reopened up after the holiday. So I had to spend some extra days in Belfast without a show. I just had to go explore. So I got on the bus, and went and discovered all the small little African communities and the diversity of Ireland that I didn't know existed, and I really had a great time.
RAP IRELAND: Well, going from there. Is there a European Tour planned for El Che? Can we expect to see Rhymefest back in Dublin soon?
RHYMEFEST: I need to write about this. People think it's easier than it is to go on tour. I can only come to a place if I'm invited. I can only come to a place if the fans demand I come to that place. I don't know anybody at this point who can help me get a tour through Europe again. I would love to come over, and travel, and see the people, and stay in fans homes, kick it with my man Dave Cameron, you know what I mean? I would love to do all of that stuff, but I have to be invited.
RAP IRELAND: OK, just to wrap things up. I know you have lots of projects you are working on the moment. Do you want to tell us what to look out for from Rhymefest in the coming months?
RHYMEFEST: Right now we need to concentrate on May 18th. That's when El Che is dropping. That is my focus: to sell this record, and get to the next record I want to do. I have a group called Blaxploitation, which is like a supergroup of the extra dope Chicago artists all together. It's me, a guy called Juice, Mikkey Halsted and Twone Gabz. I have a few group projects. I have a producer I'm trying to manage, who is really dope on the production tip. Just trying to diversify, you know?
El Che By Rhymefest is released on June 8th.
www.ElCheTheMovement.com.
Follow @rhymefest on twitter. – Rhymefest does respond to his twitter followers
Free pre albums available at: http://dnbe.bandcamp.com/
Words: Duan Greally