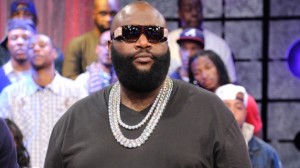 Rick Ross
 is once again laid up in bed after yet more health concerns. Reports have surfaced in various outlets and from numerous sources that the Maybach Music mogul has canceled at least two recent performances due to health issues.
Of colleagues at Rap Houston have informed us that Ross missed an April 7 show in H-Town after suffering a seizure and was also a no-show at the "Easter Fest Rozay" show Monday night (April 9) in Guyana.
In a statement to the booking agency responsible for the Guyana show, Rick Ross's management said; "Once Ross is cleared by doctors they are willing to work on an alternative date for the Guyana show."
This is not the first health scare for Rozay, who was rushed to an emergency room for seizures last October. The period of recuperation that followed that illness also forced the Miami rapper to cancel shows and was cited as the primary reason for the delay of his long awaited fifth album God Forgives, I Don't.
We await a full statement from management.