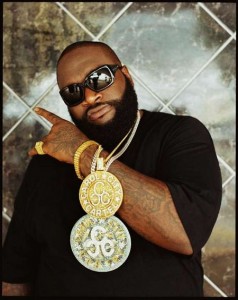 This past weekend New York Hip-Hop radio station Hot 97 held it's annual Summer Jam concert with performances coming from the cream of the crop including Lil Wayne, Drake, Chris Brown, Rick Ross, Fabolous, Lloyd Banks and Wiz Khalifa to name just a few.
While performing his set, G-Unit rapper Lloyd Banks brought out fellow Queens emcees, Prodigy and Havoc of Mobb Deep, for a performance of their classic song "Shook Ones Pt. II." While backstage MTV caught up with Prodigy, where he revealed that the Infamous had recently worked with Summer Jam 2011 headliner Rick Ross on a track that will be used for their new album due to drop later this year.
"We did a joint with Ross," said P. "It's in the stash right now. It'll probably be for the Mobb album. It's kinda crazy too…We're looking forward to maybe, like, September. End of August, September – we're shooting for around that time. We know they need that new music out there, something for the streets. We gotta feed the streets."
"It's a lot of different things happening in hip-hop. That's a good thing. You got different types of sounds, but you know we gotta keep what makes us going. We gotta keep our sound alive, that dark Hip Hop. We're gonna keep that alive." Prodigy added.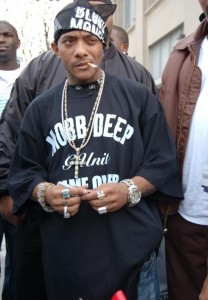 We all know by now about the well documented beef between 50 Cent and Rick Ross that took place while Prodigy was in prison. 50 has made it clear in the past that when he has a beef with someone then the same goes for his supporters; therefore making music with Rozay is off bounds, or is it?
"When I came home, 50 had come to see me, he had flew in from Cali to come and see me," P
explained in an interview on ThisIs50. "Before I did anything, I went straight from prison to the G-Unit office and then I came to the studio after that. When I stopped at the office, I had a talk with 50 and was telling him, 'Yo, right now, we're in a position where we gotta start doing songs with people. Mobb Deep. We gotta start doing songs with a lot of people. Different people.' Basically he was like, 'Yeah, you're right.' … All this s–t with n—-s ain't doing songs with people, beefing with people, all that, we really trying to dead all that."
"Rick Ross is just one rapper out of many that we've been reaching out to," added Prodigy. "Number one, aight, he a correction officer. Aight, so what? I know a lot of cops, I know a lot of corrections officers. I know some people that's on the other side of the criminal s–t and just because you got that job or whatever, whatever, that doesn't necessarily mean that you a part of the people that's trying to target us and f–k with us. Not all of the law enforcement gets down like that. It's a select few of them that do…That doesn't bother me that he was a corrections officer. Like, so what?"
Rick Ross also talked about his respect for P during a visit to MTV's RapFix Live a few weeks ago. He told Sway that not only does he enjoy Prodigy and Havoc's music, but that he also appreciated Prodigy reaching out to southern artists, particularly former Cash Money rapper B.G.
"I respect him most definitely as being a boss, making your own decisions" Ross told Sway. "When he was released he gave me a call a few days after that. We spoke on the phone maybe once or twice. It was a genuine conversation, us touching base making sure it is what it is. We most definitely put a record or two on the table. Just to be frank I was always a fan of the homey, H.N.I.C., I always respected when I saw that. The B.G. collaboration he did with the South. That was big for me. So I was always a fan of the homey and when he made this move in a gway so you had to respect it. So look for a Rozay and Prodigy recordin the future."