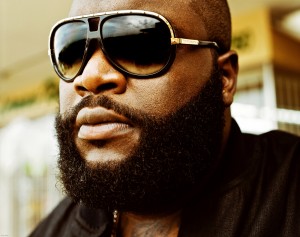 While it may be the case that even the dogs on the street know that rapper Rick Ross took inspiration for his name from infamous drug kingpin Freeway Rick Ross, it would seem that the court system aren't getting with the program. Rozay managed to win the court battle on the grounds that the suit was taken outside of the statute of limitations.
"Freeway" Rick (The Real Rick Ross) showed up in court today to hear the ruling on the second lawsuit he's filed against the rapper Rick Ross, Jay-Z, Def Jam Records, Universal Music Group and others, for trademark violations, unfair competition and misappropriation of his publicity rights and, for the second time, his case has been thrown out of court, according to website TMZ.
As previously reported, in November 2010 a federal judge in L.A. threw out the first $10 million lawsuit Freeway Rick Ross filed against the rap star, born William Roberts, and his label because they determined that "Freeway" Ross didn't have enough evidence of secondary usage by the Miami rapper. With a new team behind his, Freeway made a second court attack, though the results were similar, with this judge ruling that Ross didn't have a case because he filed outside of the two year statute of limitations.
"I should've filed a lawsuit while I was still in prison," "Freeway" Ricky explained. "There's a law that technically if the person publishes the name again, republishes the name, that's another violation. So we argued that every time he put out a new album that's a republication of the name, or every time he does a different magazine article that's a republication because that's in a different magazine, that's a new republication… She [the judge] said that she wasn't certain that that's how the republication law read. She said that ours was a single publication and once he started using the name, the first time it ever played on the radio in suburban Miami was the date that she used."
The case becomes particularly contentious when we consider that Freeway was behind bars during the time that Ross rose to game, only learning of the fact through XXL magazine in 2009. This didn't seem to fly for the judge however, who refused to take the incarceration into consideration.
"The judge drew a line in the sand," he explains. "There is law that the judge can take some issues into consideration but she wasn't willing to do it at all. She didn't know if she was absolutely correct and suggested we could take it up on an appeal but we asked her if she would allow us to take it to a jury trial and she denied that right."
"Freeway Ross" isn't giving up on taking down the music giants. "We're going to regroup," he promises. "We intended on appealing the Supreme Court but, you know, it's also a money issue. They had 8 or 9 lawyers in court today. As you know, Universal has very deep pockets and we have to see which way we're going to go from here."
RapIreland.com is your #1 source for celebrity news, gigs, exclusive videos and all the latest in the world of hip hop and R&B music.