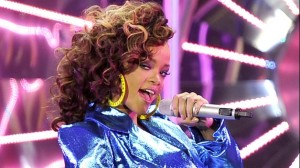 Rihanna just loves breaking records. We reported last week that she has become the highest selling Digital artist of all time, and now the young singer from Barbados has further confirmed her status as online queen by becoming the most viewed female artist on Youtube, clocking up over 2 billion views (2,068,076,591 to be exact)
Rihanna has left Lady Gaga eating her dust, opening up a gap of over 20 million views. In an astonishing figure, the Bajan singer has been racking up over 3 million views per day since releasing Talk that Talk, with the Belfast shot video "We found Love" being viewed 115 million times.
While Rihanna should be proud of such astronomical figures, it is a teenager who pips her to the top spot, with none other than Justin Bieber coming in top of the pile with 2,275,845,406 views.
RapIreland.com is your #1 source for celebrity news, gigs, exclusive videos and all the latest in the world of hip hop and R&B music.