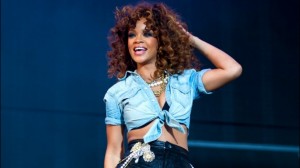 It's hard to believe, but Rihanna is still just 23. Despite that, the pop singer from Barbados has managed to further than any other artist dead or alive, by becoming the official bestselling digital artist of all time.
Verified by the industry standard bearer Nielsen, Rihanna has sold over 47.5 million tracks digitally since her first single in 2005, and comes in with a comfortable cushion of over 5 million sales ahead of Black Eyed Peas and Eminem.
Rihanna is not an artist who is unused to such record breaking heights. With a relentless 6 albums in 6 years, Rihanna is a workhorse when it comes to her music and the hard work is clearly paying off. With 11 number one singles, Rihanna is in 6th position in the race for all-time number 1 singles and is closing in fast on the title.
RapIreland.com is your #1 source for celebrity news, gigs, exclusive videos and all the latest in the world of hip hop and R&B music.