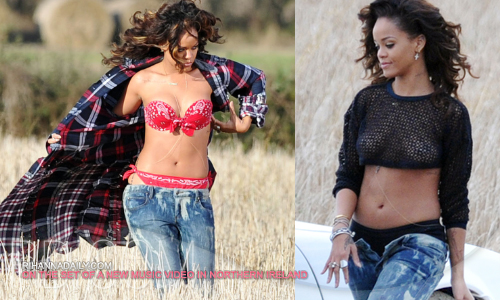 After performing in front of 100,000 people at Rock in Rio festival in Rio de Janeiro this past weekend Rihanna jetted into Ireland to kick start the European leg of her Loud Tour playing four dates, fans can catch the R&B star this Thursday Sep 29th Belfast,  Sep 30th Belfast,  Oct 1st  Belfast and wrapping things up here on Oct 3rd Dublin, Ireland.
The Barbados beauty was photographed on the set of her new music video in County Down, Northern Ireland. The video is for her latest single "We Found Love" produced by Calvin Harris, the track is already topping the iTunes charts worldwide and is the first single off her new album due out November.
Melina Matsoukas is the director and has previously worked with Rihanna on "S&M", "Rockstar 101″, "Rude Boy" and "Hard" the visual is reported to drop to coincide with her guest appearance on the American version of the X Factor. Ri Ri will reportedly help judge L.A. Reid pick his four finalists at the Judges' Houses ahead of the live shows.
Check out Rihanna's pictures from the video set below.