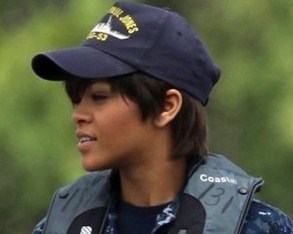 The trailer for Rihanna's big screen debut has been released. If you are looking to check out her acting skills you will be disappointed as it really is a
blink-and-you-miss-it moment
(That's her @ 1.46- we swear)!!
The film "Battleship" is a film about an alien invasion out at sea and also stars Liam Neeson and Taylor Kitsch. Rihanna plays an FBI agent in the movie.
"Battleship" won't be hitting our screens until next summer…so until then we'll just have to hold judgement on the singers acting skills!
Watch it here first: