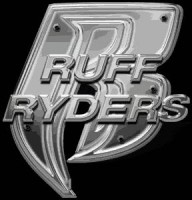 Its been over a month since DMX was released from prison and since then the dark man has already finished his next album, his thoughts now turn to returning the Ruff Ryders back to the top of the Hip Hop elite. According to a recent press release, The New York based rap label Ruff Ryders will drop its latest compilation project on October 18th.
The untitled mixtape will feature the Ruff Ryders' latest member Mook on it's first single "You Know," an update of DMX's 1998 smash "Ruff Ryders' Anthem." Mook, formerly known as Murda Mook, signed to Ruff Ryders' independent extension Ruff Ryders Indy back in 2009.
The label has created stars like DMX, Swizz Beatz and Eve. Back in the late 1990's, they also added former Bad Boy Records group 'The Lox' to the roster. We are sure to hear all of the veteran Ruff Ryders on the new mixtape along with the new blood of one of the longest surviving record labels in Hip-Hop.
Check out the Mook "You Know" below:
RUFF RYDERS MOOK – "YOU KNOW" from Ruff Ryders on Vimeo.