Eminem's label Shady Records is set to showcase it's 2nd generation of talent at the South by SouthWest trade show event in Austin, Texas on Friday, March the 16th.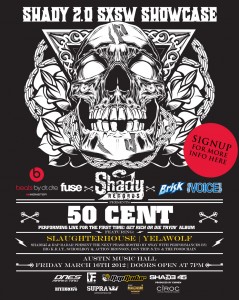 The official Shady Records webpage gives fans a clue of what to expect featuring Shady 2.0 performances by both Slaughterhouse and Yelawolf.
But perhaps the biggest news of the event is that 50 Cent will headline, performing his 2003 release "Get Rich or Die Tryin'" in full for the first time! This album is Fif's most coveted work being Hip-Hop's largest début, and with over 12 million copies sold in the US alone the performance is bound to leave fans in awe.
The event will be hosted by Shade45′s Sway with other performances by BIG K.R.I.T. and Action Bronson.
Check out www.shadyrecords.com/sxsw/ for more information and let us know on the forums which song from 'GRODT' you'd most like to witness live.