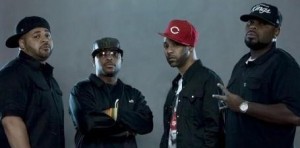 Joe Budden, 1/4 of Slaughterhouse has broken the silence behind one of the most anticipated albums of next year! While appearing on the Entertainment and Sports Programming Network, Budden told them-
"I want to talk about the Slaughterhouse project. It's coming this April, hopefully. The album's phenomenal. So I want to tell all the sports fans out there to look out for it."
Since Royce Da 5'9″ reunited with former partner in crime- Eminem, Slaughterhouse signed to Shady Records as part of the Shady 2.0 camp and the team have been making waves ever since!
The Shady 2.0 roster ripped up this years BET Cyphers leaving the fans hungry for more! Label-mate Yelawolf dropped his first Shady album 'Radioactive' in November with critical success. So now the spotlight is ready to be focused solely on the super-group that consists of Joe Budden, Joell Ortiz, Crooked I and of course Royce.
So only 4 more months before we get to indulge in some real slaughter and we have no doubt that, like with all Shady releases, the hype is real!
RAP IRELAND-SLAUGHTERHOUSE BET CYPHER
Joe Budden on ESPN

"Loud Noises" from 'Hell: The Sequel'

Eminem on signing Slaugherhouse