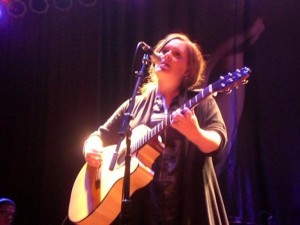 It has been an amazing seven days for Adele. The Singer Songwriter has gone from stealing the show at last week's Brit Awards to bagging her first number one single in the UK. Adele has made chart history with her new studio album "21" also holding onto the number one spot for the fourth week running in both the UK and Irish Charts simultaneously.
The 31st Brit awards went down last Tuesday night – with a line up boasting UK music scene heavyweights: Take That, Mumford & Sons, Plan B and Tinie Tempah – few could have predicted that the performance everyone would be talking about was that of Adele's stunning ballad "Someone Like You". The singer belted out a stirring rendition of her latest single before breaking down in tears on stage.
"I was really emotional by the end because I'm quite overwhelmed by everything anyway. Then I had a vision of my ex, of him watching me at home and he's going to be laughing at me because he knows I'm crying because of him, with him thinking, 'Yep, she's still wrapped around my finger" she later explained.
The track climbed all the way from 47 in the official UK Chart to pip global superstar Lady Gaga for the number one spot by the week's end. Her previous single "Rolling In The Deep" is also still sitting at the number 4 spot.
"21" has been at number one for the past four weeks in the UK – already going triple platinum. Meanwhile her 2008 debut "19" holds the number 4 position making Adele the first living artist to have two top five hits in both album and single charts at the same time since The Beatles. In January 1964 'I Want To Hold Your Hand' and 'She Loves You' were at two and five in the singles rundown while the 'With The Beatles' and 'Please Please Me' albums were at one and two. The good news doesn't stop there for Adele. '21′ sold 188,767 copies last week; more than the rest of the top five entries combined.
On hearing the news that "Someone Like You" had topped the charts, the two-time Grammy Award Winner told Radio 1's Chart Show "I've never had a number one single. It's amazing. "I'm probably annoying everyone as well, as I cried at the Brits and everything. I'm just so overwhelmed, I can't believe the response to it"
Adele success has also transferred over to the Irish charts with the "21" record staying at the number one spot the past four weeks."19" just missed out on a top 5 spot, finishing at 6 this week. "Rolling In The Deep" peaked at number 2 and still remains amongst the top 5. While last week saw "Someone Like You" rise from 26 to 9 in the singles chart.
A big congratulations to Adele on a massive week from all at Rap Ireland.
Adele – "Rolling in the Deep" BBC Live Lounge
Adele – "Someone Like You" Live at the Brit Awards 2011
WORDS // BLAIN MOORE // RAP IRELAND