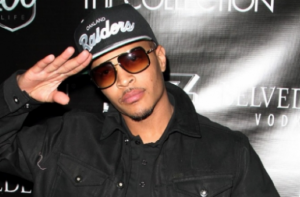 They say the real art of genius is knowing what to chip away to find the masterpiece, and it would seem that T.I will be putting this concept to the test as he prepares to release Trouble Man, with 125 records vying for a place on the album. Having successfully completed his much-talked about performance at Atlanta's Birthday Bash 17 last week, rapper T.I. called into Hot 107.9 and spoke with DJ Sense about the concert and spilled some details on his upcoming eigth studio album, the aforementioned Trouble Man.
However, first up Tip was eager to premiere the T-Minus-produced, first single, "Go Get It," on Sense's Atlanta radio show.
The duo got down to business after that, as Sense asked T.I. about the September release date he promised at the beginning of May, when he told Angie Martinez of New York's Hot 97 that Trouble Man would drop a day after the second season of his VH1 show "T.I. and Tiny's Family Hustle" premieres.
Tip told Sense, "Man, we coming in September, but we still cooking though. I still got something else up my sleeve coming real soon." Moments later he dropped the news that he has recorded over 100 songs for Trouble Man. "I got 125 records, man," he told DJ Sense. "I'm sitting on it."
Expect a flurry of "leaks" this summer as the Tip camp looks to assess the appetite for different tracks. Rap Ireland will be first to bring you all the latest songs as they drop.