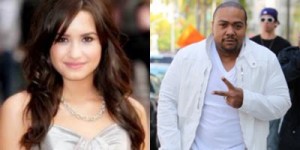 Production genious Timbaland is once again in the studio working on a rather unexpected collaboration. This time the Shock Value star is working with Disney princess Demi Lovato on her third studio album.
Demi was released earlier this year as an out-patient after seeking treatment for severe bulimia, bipolar disorder and self-harming. She instantly went back to work and started on her third album, the first since leaving the Disney empire. Demi stated that she was very inspired by Keri Hilson on this album and so it makes sense that she would work with, unquestionably, one of the greatest producers around. Demi also recently released the lead single from the album 'Skyscraper'.
This collaboration will mark the second time Timbaland has worked with a Disney princess. A duet with Miley Cyrus (We Belong To Music) appeared on Shock Value II.