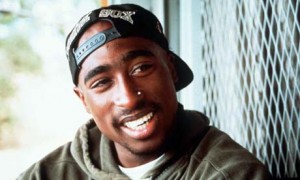 Producer and filmmaker Quincy Jones III (QDIII) is working on a new six-part mini series based on the many personalities of his late friend, rapper Tupac Shakur.
Speaking to XXLMag.com, QDIII broke down the workings of the parts;
"If you look at Tupac's life, he was a politician, he was musician, and then he was a guy who empowered women. We're gonna do a six-part series documenting six different areas of his life.!
QDIII, who produced a documentary about the legendary rapper called Tupac Shakur: Thug Angel in 2002, says that this particular project will be a lot different since he has the input and guidance of Tupac's mother Afeni Shakur, who is working on the series with him.
"It's a real blessing because for the first time we'll have access to the family, information and items that only she would have. There's a lot of things that he left behind like notebooks, audio tapes of his meetings, and all kinds of stuff so it'll be a totally different look of Tupac because we actually have that access now."
He also says that one of the segments will focus on Pac's relationship with the Notorious B.I.G. Although the two rappers are remembered for the infamous East vs West Coast beef, the mini series will focus on the close friendship they had before that.
"One [episode] is just on Tupac and Biggie's friendship. You know, there's a lot of things that people don't know about that friendship even up until the very last day, things that Tupac was trying to do to mend that relationship. So we're going to see the side of Tupac that people haven't seen too often."
QDIII did not clarify on what channel the mini-series would be premiering, but simply stated ;
"I don't wanna say for sure yet until we lock that up."
 This coming September 13th  marks the fifteenth anniversary of Tupac's passing.