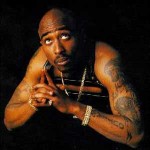 Two unreleased diss tracks from 2Pac have found their way onto the Internet this week. The first track "Watch Ya Mouth" was released a few years ago but we only got to hear a snippet of the track. Now we get to hear the onslaught aimed at rappers Dr Dre, Biggie, Nas and De La Soul.
The second track "NY '87 (Now That's Dissin), is originally a Dogg Pound track featuring Deadly Threat, DJ Quik, and Pac shooting various slugs at Biggie, Mobb Deep and the entire New York rap scene.
How many 2Pac songs are there kept away in the vaults?
2Pac – Watch Ya Mouth x NY 87 by ImFlashy