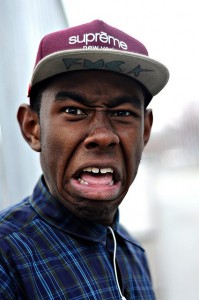 OFWGKTA's Tyler the Creator was arrested for vandalism after reportedly trashing the famous Roxy Theatre in Hollywood on Thursday night.
Police reports state that Odd Future's front man had "just destroyed an electric soundboard belonging to the venue."
The spectacle escalated when an angry crowd of fans protested Tyler's arrest, including his upset mother who was reportedly seen shouting at police. The situation was under control within 30 minutes, and Tyler has been released on a $20,000 bond earlier today.
Below is some short footage of the rapper's arrest: