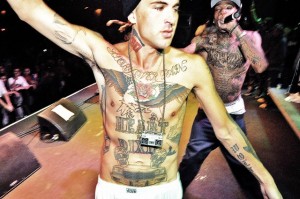 Having completed a successful tour in 2011 which included selling out Dublin's Olympia Theatre as support for Wiz Khalifa, Yelawolf is due back in Dublin on May 5th, with MCD bringing the Alabama artist to The Academy in Dublin.
Yelawolf is currently celebrating the successful release of Radioactive and his ever-increasing reputation in the rap world under the tutelage of Eminem. It remains to be seen how many hardcore fans exist in Ireland for the newcomer, though if crowd reaction at Wiz Khalifa was anything to go by, the response will be very positive.
RapIreland.com is your #1 source for celebrity news, gigs, exclusive videos and all the latest in the world of hip hop and R&B music.