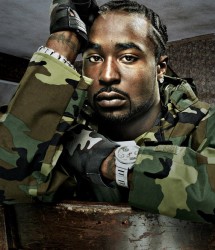 Young Buck can't seem to catch a break!
Since his falling out with former mentor, 50 Cent, in 2008, the rapper was forced to file for bankruptcy and now might actually have to sell his name!
Buck told the press that a new decision made by the courts is holding him back from signing a pending deal with Cash Money Records, as his legal case was changed from a reorganization to a liquidation case earlier this week, which means the rapper's estate and assets, including the 'Young Buck' brand name will be sold to cover his debts.
Real name David Darnell Brown is upset and frustrated as the Cash Money contract would alleviate his debt problems allowing him to exit bankruptcy, but the courts decision is counter-productive.
Buck has stated-
"I just wish the trustee would understand that I'm actually in a position to actually work again. Either way it goes, you're going to get paid. I'd be back working again. My income would only grow just by being a part of a company that's as big as Cash Money and by being an artist as talented as I am. Cash Money provides me with a job to pay off the bankruptcy and creditors."
We wish Young Buck all the best! Rap Ireland will keep you informed as this story progresses.