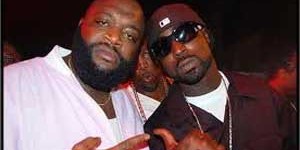 Since Young Buck was kicked out of G-Unit in 2008, we've heard 50 releasing private conversations, the two exchanging words on records, and now Buck has clamed he is performing "on behalf of" Rick Ross' Maybach Music Group. The news was revealed during a recent interview Buck had with HipHop Official, where he announced that he is working on a new mixtape.
In the interview he talks about past releases and discussed forthcoming projects lined up. "The Rehab Mixtape was basically a mixtape I put out there. It didn't end up getting distributed. I've put out Back on my Buck Shit Volume 1. Volume 2 was produced by Drumma Boy. Salute to Drumma Boy. I'm working on a mixtape right now on behalf of Maybach Music. Salute to them."
Buck also shared his take on his current situation, saying he feels "blessed" to be in his current position.
"I'm blessed to be in a situation where people enjoy what I'm giving them. They enjoy my words because at the end of the day, like I say, there's not a lot of rappers that really give it to you from a real perspective. The game is kind of missing that. It's watered down. We got all kinds of other music out there and it's cool but don't ever try to wipe the real out."