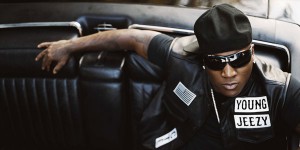 DJ Whoo Kid, who played Dublin last Friday night, was first with the exclusive from Young Jeezy that the line up for the third installment of the Thug Motivation series is looking to be packed with heavy hitters. Interviewed on Whoo Kid's Shade 45 radio show, Jeezy announced that Eminem would indeed feature on TM 103, alongside a bevy of Hip-Hop's finest stars.
Also set to feature on the CTE/Def Jam release are Jay Z, Fabolous and Jadakiss, along with a varied assortment of rappers and styles including that of Devin the Dude, Plies and Snoop Dogg.
The current release date for TM 103: Hustlerz Ambition is 20th December 2011, though Rap Ireland has it on good authority that the album will not drop in Ireland until the first quarter of 2012.