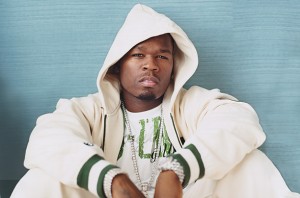 After taking a break from music for some time to kick it on the movie screen, Fiddy is back and he's out to reclaim his status as G-Unit's gangster in chief. Never one to shy away from controversial lyrics, Curtis Jackson clearly has beef with more than one of the hip-hop hierarchy and he's in a sharing mood.
The rapper has released a track entitled 'Love Hate Love' in which he venomously attacks some of the rap game's biggest names. Not just one but two high profile stars have received a brutal beat-down in the track which was released to coincide with his Street King Energy Series. 
'Love Hate Love' is quite a short track, but what it lacks in minutes it makes up for in malice. Fifty opens fire on Young Money's main man Lil Wayne first. He describes Weezy as: "Acting like a white boy bored, now you wanna jump a flight of stairs on a skateboard/Ni—, why the f— ya pants so tight?/You trying to show ni—- your ass, your alternative life".
When he is finished hating on the Young Money megastar he turns on former ally, the Game. This is not the first time the pair have been in battle however, Game was thrown out of G-Unit in 2005 for being disloyal in conflicts with other rappers.
In reference to his former cohort he cut even further below the belt : "You said you was gonna see me when your homie got shot/ It's been a while so I'm guessing you must've forgot/ Once again you forget ain't this some shit/ You forgot about me bitch I wrote your hits."
Despite the Game discussing the possibility of a reunion with G-Unit in 2010 it appears Fiddy is not the forgiving type. After the outburst, Game took to Twitter to declare a full on war of words: "@50cent I'm on tour doin shows but soon as @avanterose find a studio for me I'm killin yo "Planet Of The Apes" face havin ass nigga #MEunit"
As yet, there has been no word from Weezy or Lil Tunechi as is his title in the Twitter sphere. The G-Unit governor will need his troops on standby while he waits for another enemy to retaliate.