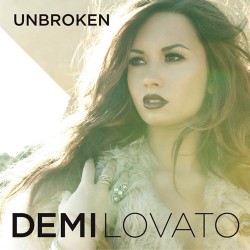 British singer Adele has now secured her spot as possibly the most successful artist of the 21st century. Her flawless sophomore album 21 has now sold more copies than any other album in a single year by any artist, with over three million albums having already been sold since it's release. It's safe to say that the most any other artist / band can hope to achieve this year is number two. With that being said, Demi Lovato makes more than a decent stab with her newest album. It's been a week since it's release and no word of a lie Unbroken by Demi Lovato has been on repeat almost every hour of every day within the last week. That's how good the former Disney star's new album is.
As mentioned in previous articles, Demi had been working on this album since before, during, and immediately after entering a treatment facility for various mental issues. If anything, this experience has strengthened Miss Lovato and made the album a lot more real and sincere; comparable only to Adele. Known for the typical bordering stereotypical pop rock sound, Demi has not stepped but jumped out of her comfort zone into the world of Urban music. She does it with such sincerity and such gusto that you'd think this is what Demi originally started her music career with.
The album commences with the funky track All Night Long, produced, written by and featuring Missy Elliott and Timbaland. The production duo go back to their hit making formula seen in albums like Aaliyah's One In A Million to get you in the mood. The lead single off the album Skyscraper is an emotionally turmoil ballad that represents both her recovery from her personal demons and possibly her recovery from her former relationship with fellow Disney star Joe Jonas (of the Jonas Brothers). The violent and fragile imagery invoked strikes a nerve to anyone who's ever truly suffered. The main writer of the song was Estonian pop star Kerli (Kõiv).
The rumored second single off the album features a new artist on the rise, Dev. Who's That Boy is an upbeat song described as "the polar opposite" to Skyscraper. Demi's powerful vocals and Dev's speech-sing style compliment each other nicely. As Unbroken comes to an end, hints of Demi's pop rock past slowly creep in culminating in the final track For The Love Of A Daughter. A ballad about a girl who misses her father, a subject all too familiar with Demi and I'm sure a lot of you reading.
The album in its entirety is an amazing listen. Vocally powerful, lyrically exhilarating and the production is flawless. The only small con I have with the album is the collaborations. Timbaland and Missy Elliott aside, it seems like the collaborator's were the B-Side choice of who was originally wanted. Instead of Nicki Minaj she got Dev, instead of Sean Kingston she got Iyaz, instead of Chris Brown she got Jason Derülo. That's not to say that the collaborations aren't good it's just when you listen you can hear that it should be someone else singing.
All in all this is an extremely powerful album and while it has no hope of surpassing the powerhouse that is Adele it does a pretty good stab at it. Unbroken is perfect for everyone from Lovatics to first time listeners. And despite what I said about the collaborations I still give Demi 5 stars!