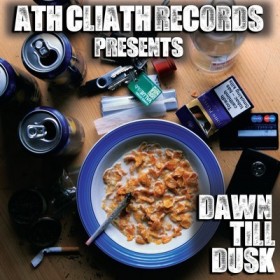 After carving out solo ventures in the Irish hiphop scene, Donaghmede emcees Jambo and Jonnyboy of Ath Cliath Records (A.C.R) have released their eagerly awaited collaboration album 'Dawn Till Dusk'. Jambo, who was renowned as one of the stand-out emcees in the recent Da Fighting Irish (DFI) League Battle- maintaining an unbeaten record, and rapper/producer Jonnyboy, combine to create one of the freshest and most distinctive Irish hiphop releases to date.
On the first cohesive release from A.C.R, Jonnyboy showcases his production talents, blending together a vast array of beats and music styles that inspire the A.C.R duo. Skilled producer Scimon Tist also features on two productions, demonstrating his ability to crossover into any musical genre. With Irish DJ Mayhem on the cuts, the 10 track album showcases a unique sound that sets it apart from its' contemporaries by incorporating a range of different musical genres; fusing hiphop with house, rock, and traditional Irish folk. The duo have set a high standard, enlisting some of Ireland's most talented artists to feature on their debut; including platinum selling Irish singer Damien Dempsey, vocalists Garry O Brien and Hazy-Jane, and Dublin emcee's Lethal Dialect and Joey Mac.
This album is a concept driven project, which musically evolves from dawn until dusk over the course of the record. It contains different themes and music styles to suit all tastes, be it the underground style of "The Prophecy", to the dance-infused session pleaser "Leave the World". Jambo's hard-hitting style, in contrast to the laid-back approach from Jonnyboy, balances well to create both a fresh and versatile sound.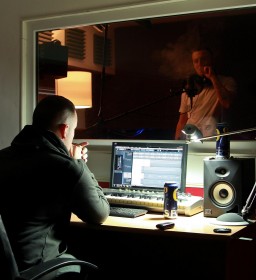 Dawn Till Dusk commences with the laid back tune "The Sun" featuring catchy vocals from Hazy-Jane, followed by "What's Happinin"; an emotion-evoking hip-hop track complimented by Aslan-inspired guitar riffs and traditional Irish vocals.
The tracks in-between are no album fillers either. On "Fallin' Generation" their A.C.R affiliate Joey Mac opens with a powerful verse that sets the poignant theme of the track. The relevant lyrics from all three and the haunting vocals from Garry O Brien serve to produce one of the highlight tracks on the album. The following track "Changes" ft Blanchardstown emcee Lethal Dialect is a hard-hitting, nostalgic, hip-hop gem that aptly reflects their "no gimmicks needed" mantra.
The latter part of the album transcends into uptempo house music, such as the records lead single- "Take Off". This is followed by "I remember", a heartfelt ode to their mothers, however, in true unique ACR fashion, it is set over a drum and bass inspired up-tempo dance beat. The album concludes with "The City's Lur", an honest portrayal of the duo's home-town and working class roots. The traditional Irish sound is enhanced by the powerful chorus from popular Dublin singer/song writer Damien Dempsey.
The themes, word-play and lyrical content displayed throughout are clever, relevant, and easy-to-relate-to. With a variety of subject matters and genres to literally suit any mood, this record has serious replay value. Pushing the boundaries of Irish rap, this innovative release from Ath Cliath Records is a fitting reflection of authentic Irish hip-hop!
Check out the sample tracks below and let us know what you think! Get yourself a copy of the album HERE
01 The Sun feat.Hazy Jane by athcliathrecords
04 Fallin' Generation feat.Joey Mac & Garry O'Brien by athcliathrecords
09 I Remember by athcliathrecords