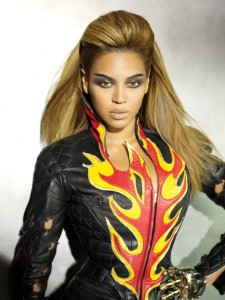 International superstar Beyoncé is heading down to Puncherstown in July for this year's Oxegen festival, it has been confirmed today. Lucky festival goers will get to see one of the biggest superstars on the planet up close and personal as she goes through her hits "Crazy In Love" , "Single Ladies" and "Irreplaceable" to name just a few.
With a new album out this summer, Oxegen fans will be amongst the first to hear her new material, performed live in front of thousands. Sasha Fierce will be headlining the Glastonbury Festival on the 26th of June as we told you here back in February, where fans will get a glimpse of whats to come when she performs here on the Sunday, 10th of July.
"We're always striving to bring the biggest and best music talent to Oxegen and they really don't come any bigger than Beyoncé. She is a truly incredible artist and an amazing live performer. This year we've got most of the artists headlining the UK's major festivals on one bill – it's all about giving fans real value for money and delivering an unforgettable experience." Said John Probyn, Oxegen's Festival Director.
Other Hip-Hop & RnB acts inculde – THE BLACK EYED PEAS, PLAN B, TINIE TEMPAH, BRUNO MARS, JESSIE J, PROFESSOR GREEN, HOUSE OF PAIN, ODD FUTURE WOLF GANG KILL THEM ALL and EXAMPLE.
Take to our Forums to discuss the acts your looking forward to see at this years Oxegen Festival here
Check out this Live performance from Beyonce