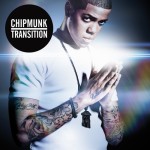 With his debut album evoking a huge response this side of the pond, London rapper Chipmunk has now set his sights on the untold riches that abound on the Yankee side of things. After a first offering "I Am Chipmunk", which included an appearance by N-Dubz and other associated British talent, the second album by the 20 year old upstart is surely aimed at grabbing a slice of the hugely inflated American cake.
Whether it works as a whole is far from clear, as there are some tracks which immediately grab you, but often these are preceded by a lyrically challenged young man who may just be trying that little bit too hard.
Featuring American artists such as Trey Songz, the much publicised Chris Brown and Keri Hilson, to name but a few, the cross hairs are most definitely focused on distant shores. With a harder edge desperately trying to make its presence felt it may prove to maybe not breakthrough, but certainly give a foothold, in a market with obvious attractions for an up and coming young man from the London underground.
Whether the US takes to Chipmunk remains to be seen. But numbers such as the aspirations-themed Take Off and the soulful undercurrents of In the Air make it easy to imagine the Tottenham boy transferring his domestic success internationally with some ease. Largely it's the presence of the guests that makes a track memorable – Hilson is in great voice, and Diddy – Dirty Money singer Kalenna provides soft counter vocals to Chipmunk's propulsive rhymes on the slippery White Lies. Trey Songz is a better straight singer than Brown, who accompanies the rapper on UK number two single Champion, and so Take Off comes across as a fine collaborative cut with catchy, clattering beats.
Transition, whilst not a disaster, does have its share of missteps, but one leaves the experience feeling there's more to come from Chipmunk; that despite his diminutive moniker he could yet become a huge star on the global stage. Lil Wayne, with whom comparisons have already been made, didn't make a significant mark in the UK until Lollipop, from Tha Carter III, with single and album going top 30. So both time and money (as he delights in telling us) are firmly on this still-rising artist's side.