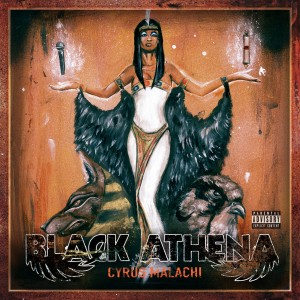 UK rap standout Cyrus Malachi has finalized a release date for his much anticipated second solo album. Coming out on Irish label First Son Records, Black Athena is set to hit shelves on April 20th.
Those who pre-order the album now will get their copies five days in advance of the official release date, and all pre-ordered CDs will be shipped with a bonus limited edition copy of Cyrus' Isis Papers 3 mixtape (while stocks last) which isn't available to buy anywhere else.
The Black Athena album has hand painted illustrations by Gary Alford – noted for his design work on Rza/Bobby Digital's Digi Snacks amongst other projects. The new LP features guest appearances from Cyrus' Triple Darkness crew, Iron Braydz and Skriblah, and is mastered by Chemo.
That's all ahead of us, but in the mean time, you can hit up Bandcamp for an immediate free download of the "Contraband" single. And if you missed it, be sure to check out our exclusive interview with Malachi from last year.

Pre-Order Black Athena by Cyrus Malachi here.