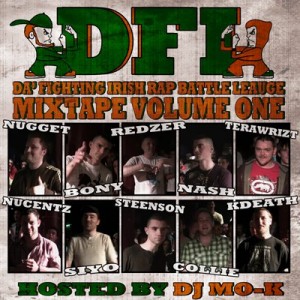 Looking for a host of top Irish Hip-Hop talent in one place? Well then it's definitely worth checking out some of Ireland's top emcees in the Official DFI (Da' Fighting Irish Rap Battle) Mixtape Volume One, which is now available for free download below.
Hosted by the master of cuts, DJ Mo-K, this 23 track download features a variety of familiar contenders from the rap battle leagues. Since its launch in 2010, all emcees featured on this mixtape have been heavily involved in the successful DFI competition. Redzer, Terawrizt, Nucentz, Collie, Nugget, Steenson, Siyo, KDeath and Cork rappers Nash and Bony all all deliver quality tracks over an impressive mix of both new and old school beats.
The full mixtape is available for streaming and download below, with a full track listing. To be kept in the loop on upcoming Irish Hip Hop releases, make sure to subscribe below.
The Official Mixtape:
Track Listing
1. Intro feat. Mo-K & Borris
2. Redzer, Siyo, Nugget, Steenson & Terawrizt – Get Mashed Up
3. Nash & Bony – I'm Ill
4. Collie – So Seductive
5. KDeath – Skillz
6. Nu-Centz – Fire
7. Nugget – Forever
8. Redzer &Terawrizt – Random Bollox
9. Bony – Beamer Benz Or Bentley
10. Nu-Centz – Raw
11. Collie – Yis Are Dowpes Boys
12. Steenson – Dirt Off Your Shoulder
13. Nugget – Nugget's Story
14. Siyo, Terawrizt & Redzer – Born For This
15. Nu-Centz – Number 1
16. Siyo & Collie – S.O.S.
17. Redzer – Loads Of Bars
18. Terawrizt – Operation M.C.(Mind Control)
19. KDeath – To Hell Or To Connacht
20. Siyo – Chilled Out Sound
21. Nugget & Siyo – 93 To Infinity
22. Terawrizt, Redzer & Siyo – The Sickest
23. Redzer -Outro