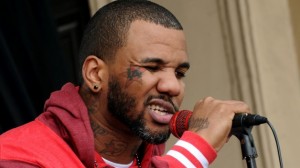 West Coast rapper
The Game
 has come out to defend himself, after a leaked video showing him spitting at fans in Australia has drawn heavy criticism. In an attempt to put the story straight, Game described the incident which he claims involved a pair of fans who had followed him from an album signing to the after party.
Speaking on the incident, Game says "We got to the after-party and here are these same two people. They by the VIP, kind of doing the heckling sh*t, and throwing sh*t, throwing Red Bull cans. But ain't none of it hitting me. The dude starts spitting loogies and drinking sh*t and spitting it. The sh*t started getting closer and closer to where we was at. He keeps spittin' and finally, the f*****' sh*t hit me. So I went over and I f*****' spit."
Although Game alleges that his spit didn't hit anyone, it wasn't for lack of trying. The Aftermath artist is unapologetic about his attempt to teach the rowdy couple a lesson.
"I didn't spit on nobody, but I definitely tried to spit on the b****. I just missed. But I'm not the best at aiming spit," he said. "Me, to get up and spit on somebody? I'm not doing that unless I'm provoked."
RapIreland.com is your #1 source for celebrity news, gigs, exclusive videos and all the latest in the world of hip hop and R&B music.