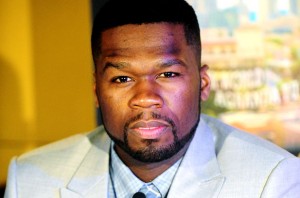 We recently reported here that 50 Cent was back on his promotional grind, rampaging through social media about his new brand of premium headphones- "SMS by 50".
Now, his much anticapted "The Big 10" mixtape has been launched to commemorate the 10th anniversary since the mega circuit release of "50 Cent Is The Future". The Queens rapper is going to release videos for each of the 10 tracks much like the re-released edition of 'The Massacre' back in 2005.
This new mixtape was initially launched as a 'like-for-download' campaign, where facebook users had to click the "like" button in exchange for tracks. Impressively, 50 cent quickly amassed the required 120,000 facebook "likes" to unlock the whole mixtape. Trust 50 Cent to utilize anything in his power to spread his online presence but will this translate into record sales for future releases? Only time will tell!
Check out The Big 10 Mixtape below and remember to let us know what you think on the forums!:
50 Cent's Official Website: Thisis50.com
50 Cent Official FACEBOOK page.