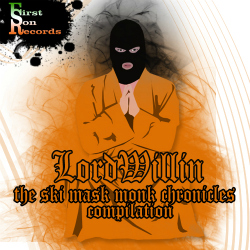 More free music now courtesy of our friends at First Son Records. Earlier this year, we featured Troop Raw's first release on the Wexford label. Now it's the turn of Boombox Saintz counterpart – LordWillin.
The Ski Mask Monk Chronicles is the latest offering from the Rhode Island emcee – a 17 track collection of raw underground hardcore goodness with guest features from Wordsmiff, Freedom Of Press and the late 40 Dash.
You can check out the single (produced by Apathy of the Demigodz) in the player below, and then download the full tape for free.
1. The Ski Mask Monk (prod. by Chum Zilla)
2. Gutta Wordlwide feat. Wordsmiff (prod. by Enlight, cuts by DJ 456)
3. Jedi Killa (prod. by Vanderslice)
4. Therapy (prod. by Cypriot Vibez)
5. Passion Of The Swine feat. ScamRock (prod. by ScamRock)
6. Bullets Over Bass (prod. by Exa & Boosta)
7. Grey Skies (prod. by War Criminals)
8. Totality feat. Freedom Of Press (prod & cuts by Henry The 8th)
9. Ghetto Lumberjack (prod. by Digi D)
10. A Thorn In The Side (prod. by Diract Beats)
11. Rep Mine (prod. by Rekademix Productionz)
12. Worldwide Raw feat. Raptus (prod. by Velvet Sick)
13. Not Ready feat. 40 Dash (prod. by Vanderslice)
14. Heed The Words (prod. by Apathy, cuts by DJ 456)
15. Drowning In The Fire (prod. by War Criminals)
Bonus Track – Out Come The Wolves dub mix (prod. by Fuso)
Bonus Track – Toxic (prod. by Fuso)