Born and raised in a close-knit Irish/American community in Boston, 'Natural', (a.k.a 'Nasty Nat'), amalgamated his love for both writing and hip-hop to find his true calling. After penning his first tracks in 2009, Nat hooked up with producer Pete 'Needy' to create 'Stay Puft Productions'. From bar-tending to teaching in an inner city public school, Nat reflects upon his personal experiences with dry humour and easy-to-relate-to lyrics that certainly prove he is a natural on the mic.
His recently dropped mixtape 'The Bartender' has garnered positive attention across the Atlantic, with featured track 'I Don't Play' securing a top 5 place on the U.S College Radio Hip-Hop Charts. The track was also featured on a Revolt Radio mixtape presented by DJ Booth.net and underground emcee Wordsmith. A dual citizen of both Ireland and America; Natural represents the Irish National Team in Baseball. Rap Ireland caught up with Nat to find out what is next in store for the Boston emcee.
Rap Ireland: A writer your whole life, you have produced several bodies of work including novels, screen-plays and poetry. How did that progress into writing hip-hop tracks?
Natural: Yeah I've always been a writer. It's funny how many different mediums I went through before I finally landed in the right one with hip-hop. I think it's more the storytelling piece I liked the best. I had always listened to hip-hop my whole life but it wasn't until college where I found myself writing rhymes down on pieces of paper in a more structured format. I would take popular songs I thought were dope and I would get the instrumental and write rhymes down in the exact same flow as the artist (take for example Lloyd Banks on Victory) and just create my own rhymes. From there I got into alot of freestyling at college parties and what not and gained a minimal reputation as a decent freestyle/battle rapper. My close friends always pushed for me to get more into it through college as they thought my punchlines were on point. I think my writing in other areas and in different styles has absolutely helped my skills as a songwriter.
RI: Who is involved in Stay Puft productions?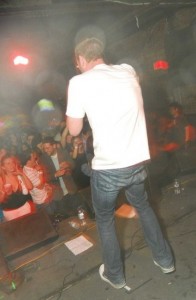 Natural: Stay Puft Productions is myself, Juicebox and Pete "Needy" Needham. There are other people floating around all the time but us three are the primary members. Those two are the geniuses behind alot of my beats. If you peep my mixtape "The Bartender" they produce about 80% of the songs. They are into old school sampling but they also show great range with more modern sounding techno infused beats. In "Cold Eyes" they do a wonderful job of getting a great sample and creating a throwback almost Jay-z Blueprint 1 sound. I love it. Then they mess around and hit you with a bass thumping "There He Go" which adds a modern flair and ridiculous catch to it.
They started a couple years ago messing around with beats while Peter was in Audio Production School at Boston University. I remember hearing some of their stuff back when I was in college and thinking it was dope but absolutely didn't have enough confidence in myself as an emcee to approach them just yet. It wasn't until about two years ago when I contacted Peter, I had released a couple freestyles to critical acclaim and I figured I would have a go on some original beats. He was the first kid I thought of. He gave me a couple to rock with and some of those early ones even stuck around to end up on "The Bartender". They have a great ear for music and love a wide range of material…listening sessions with them are always so much fun. They'll sample anything. ANYTHING. Those dudes are chemists, man. They cook up some mean stuff.
R.I: Any interest from Record Labels?
Natural: I've been on the independent grind hard since the get go. I've gotten some interest for some of my tracks for use. I am in talks with a couple major film studios for using certain tracks in film and what not. There are a couple movies on sight around Boston that are backed by some big names and I'm hoping to move forward with those opportunities in an effort to get my music out there. There is a pretty big rapper from Boston called "Slaine" and he did that sort of route when he acted in films like "Gone Baby Gone" and "The Town". Some of his music was featured in both those films and he is really starting to blow up recently. Eventually I'd love some attention from labels and honestly I think its more than possible, but with hip-hop right now marketing is the way of the game. Getting yourself out there. I've made a pretty big splash on the Boston scene and I'm looking to expand onto other cities and states. Attention is one thing but there is no guarantee I'd sign either. If you make a big enough of a name for yourself you can do very well the independent route.
R.I: Do you have much following/support in your home-town of Boston?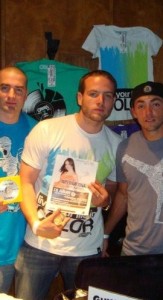 Natural: It's for sure growing. I've always been an avid fan of the music in general but especially people coming out of my city. I am brand new to this game, a little over a year clocked in as far as performances go but my first major body of material only dropped in June. Since then I've gained alot of fans through them hearing my music but also with me linking with other local artists. I've been blessed to get to know other local hip-hop artists on the scene on so many levels. My biggest event yet was my mixtape release party where "The Famous Nobodies" and "J The S" performed. It was a pleasure getting to grace the same stage as them and it was quite an intimate performance as we literally had 250 people stuffed into a pretty classy bar. It was an old throwback type of show where everyone crowded around in a huge circle and rocked out. Since that night things have really turned on. Calls from radio stations. Blogs. websites. The works. On top of that, I'm in talks with some huge collaborations on the local level.
My biggest supporters are Cavata Clothing (www.cavataclothing.com). They make some dope clothing and 10% of all proceeds is donated back to local public school music programs. It's a win win situation as Stay Puft Productions is directly affiliated with them as well. Their website is a huge source of support for me as they routinely report on my shows, tracks and releases etc and alot of their fans and my fans are one and the same. Check them out…they are a great organization! I also am Irish so everytime I perform I roll ocean deep…family list is a mile long, so even on an off night it gets pretty loud when I hit the stage. My grandmother even shows up to my shows. Believe me, not always in the safest of places haha.
R.I :It's not everyday that you come across a public school teacher who raps! What do your students think of it?
Natural: I catch "Can you freestyle Mr. Nat?" all the time. It's a blast. I mean, I'm in a pretty great place. They are so fascinated by adults when they enjoy or listen to the same things they do. It's also fun getting to recommend different tracks or artists based upon their likings. It's always fun getting to talk hip-hop with the upcoming generation. I get alot of kids that tell me they checked me out on youtube or heard from a buddy that saw me at a show and think it's awesome. I'm very lucky to be a part of that school and those kids. I get to teach them alot of different things. Some of the teachers at the school love fusing hip-hop and poetry together as it provides another option for kids to write. Some might gawk at the idea of poetry, but once they realize that it runs along extremely similar lines as hip-hop, it sometimes resonates with them in a much stronger way. We've had students do raps and other spoken word performances at the talent shows. It's a great way to teach and encourage creative writing. Alot of kids feel they don't have a voice….it's nice to be able to give them one.
R.I: You are featured in Irish rapper Rob Kelly's Half Mast Flag video. How did that come about?
Natural: About 30 Guinness's and a long walk, Haha. I was with my buddy Woody Woodburne (he has rapped in the past with Champyville, who used to rock around Dublin pretty often) when I told him I wanted to drop my mixtape off to people in the Dublin Hip-Hop scene. He mentioned a couple of clothing attire stores and we started off there. We dropped my business cards with all my links off at every record, instrument, skateboarding and clothing store you can think of and one of them told us Rob Kelly was shooting a video down near Croke Park, so (with a couple hundred bar stops in between) we ended up there. I caught up with DJ MO-K and Kelly himself. I had remembered Rob from when he had toured to Boston and it turned out we knew alot of the same people. From there we exchanged information, I gave him and MO-K my music and the beers started pouring. The vid commenced and they were happy we came by to support. The video was fun as hell to be a part of and man…have you listened to that song? Shit is dope. Kelly killed it. We are looking at getting more involved with him soon and that is absolutely a dream collaboration of mine.
R.I: You have competed in three major European Championships and were part of the 2006 silver medal team (the first in the Country's history for baseball). Are you still involved in the Irish National Team in Baseball? You're a busy man!
Natural:Yeah man it's crazy. I figure keep your plate as full as possible ya know? Baseball gets tough, especially being one of those sports that you need to play constantly in effort to stay competitive at. You take a couple years off that game and you'll show up to the field looking like an asshole. I've stayed with it. I just competed in the 2011 European Championships with Team Ireland in Barcelona. It is an experience unlike any other. I've known alot of these teammates since 2005 when I joined up with the team (I was still in college back then) and we've stayed in contact through the years and continued to play together. I've always loved baseball and gave it my best shot throughout college to try and get drafted or signed. That didn't work out so I found out about this team and decided to give it a shot. Playing for a flag is the most exhilarating experience I've ever had. You play for country. Honor. Pride. Ancestors. Family now. It's unbelievable. I'm so lucky to be a dual citizen and eligible, and the boys from Ireland have always treated me as if I was a family member. I view it as one of the most important things in my life. My grandparents are true heroes to me and they hail from Ireland along with many of my aunts and uncles. I've always identified with the culture and been so blessed to be able to travel there, make friends there and have the time of my life. I'm an Irish-American through and through.
R.I: In the past, you have worked with disadvantaged youth groups in Finglas (Dublin). Tell us more about that!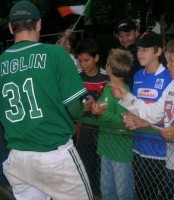 Natural: It was phenomenal. I've worked with alot of kids around the Boston area and other parts of the United States but it's always such a fun time meeting people, especially children, in other parts of the world. The kids were quite blunt about what they had to say but were pretty interested in me as I was considered "fucking huge" and "absolutely American". They were a great time. We were doing a volunteer baseball camp over there and even though alot of them didn't know much about it they gave it their all and were awesome participating in everything we set up for them. One of the kids was smoking a cigarette in centerfield which I found hilarious. I didn't flip on him but asked him to put it out and he was totally cool about it. We hung around after the camp for almost an hour just talking everything from pop-culture to politics with them. They were varying age groups and sexes, it was a great experience to hear things they had to say and spend time with them.
R.I: You are renowned for your realistic themes and down to earth lyrics. How hard is it to keep that "realness" when the industry is saturated with commercial raps about money, fame, etc?
Natural: Haha you know it's pretty easy. I love so many different types of music but hip-hop/rap has always been my favorite. Even alot of catchy commercially-oriented anthems. Over the past couple of years my patience started to wane and I got basically got tired of listening to alot of bullshit. I mean don't get me wrong, there is alot of hope left in the game and alot of wonderful artists but there was just too much nonsense on the air for my liking. I decided about two years ago if I was going to continue listening I wanted myself in the rotation. I put some things to wax and right off the bat, even on my shit talking freestyles, people started contacting me like "Yo nat, I love how you went in on the 9-5 job struggle" or "Nat, I'm loving the fact that you addressed the salaries of teachers". I mean I've seen alot of things in my lifetime. Legal. Illegal. Crazy. Sane. Heartbreaking. Rewarding. You name it. I love being able to tell stories. To reflect others stories. I just could never ever take myself seriously as a human being if I got on the mic and rapped about shooting people and selling cocaine. I mean that's like the most embarrassing scenario I can think of. I've always felt a pull toward the under-represented in society. My parents are great people and I've been privileged with the most supportive family ever. Growing up I was always taught to look out for people, especially ones that were having trouble with the world around them. That has always stuck with me…You'll never catch me having to lie to resonate with other people. I'm confident alot of people can relate to the stories I tell through my music. It all comes from the real.
R.I. You are currently in the process of recording the video for 'I don't play', what's the concept behind it?
Natural: Yeah that is my baby right there. Needy killed that beat, people keep telling me it's got the holy ghost of DJ Premier in it haha. The song reached as high as #4 on the college hip-hop charts in the USA and has been doing well around the city of Boston as well. I haven't shot a music video before so I want it to be memorable but at the same time authentic to the song. That song is very Boston themed. It's an introduction to me, my music, my city and my attitude. The first line is "I'm here to make history". I love the way it opens and I cover alot of ground in those lyrics. That being said, I'm hoping to cover alot of ground around the city of Boston. I'd like to keep it very basic and let it serve (like the song to me) as an introduction to my city from my view. It should be a good time!
R.I:. Are you going to release more tracks from 'The Bartender' mix-tape?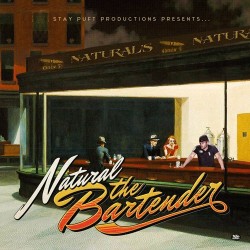 Natural: Yeah. My sleeper hit I think is "Seeya Layta". That song goes absolutely bonkers at my shows. I don't even have to sing the chorus anymore. People love singing along to it. I'm in the process of working out a video for that as well. I also am a big fan of "To Be A King" which a very heavy concept song. It talks alot of politics and current state of things juxtaposed against kings, queens and guillotines. I won top 3 in a contest to appear on a Mims track. That made the cut of my mixtape and has also done well. I was on a conference call with Mims and his management when they announced the winners and I was thrilled to be listed in the top 3 out of thousands. That track was called "Winter's My Summer" and also features Gudda Gudda. That is available on Itunes still and is also free for download on my mixtape.
R.I: Who do you admire in hiphop at the moment and why?
Natural: As far as commercial favorites I'm a huge Jay-z fan. I think he literally does serve as a blueprint of how to make it huge without losing (all) your independent credibility. Even though he is a giant now, there aren't many hip-hop true school heads that don't own "Reasonable Doubt". He has succeeded on every level and then some. Lloyd Banks is one of the most inspirational rappers ever to me. I can't say enough about his delivery, flow, writing ability and punchlines. On top of that, he could write a "how to" book on the independent grind. That guy moves serious numbers despite not being with Interscope anymore. Kanye West keeps getting better and better. It's been amazing to watch him go from constantly trying to outshine Jay-z on a track (and failing) to now, as Watch The Throne is upon us, he almost routinely bests him on verses. Not to mention he may have the best ear for music in the entire game. His beats and beat selection are second to none. J. Cole is my favorite young gunner right now. Lebron James of the rap game. I mean you couldn't have a guy with more skills at his age…plus look at the things he's talking about. His "Devil In A New Dress" freestyle is all you need to hear. "Lights Please" is one of the better more honest hip-hop tracks of the past couple years as well. Also, in my opinion, he bested Jigga on "Star Is Born" off the Blueprint 3. I can't wait to hear more from him. A couple others in my player at the moment are J The S, Emilio Rojas, Kendrick Lamar and Joell Ortiz for pure unadulterated skill.
R.I: There are so may rap artists trying to make it, especially in the U.S. How do you stand apart from the rest?
Natural: You know the whole time going into this thing I've always been highly confident in myself. That being said, I'm not stupid. A million people rap now, more than a million, and honestly the way the game works at the moment? You could be the nastiest spitter since Biggie and probably wouldn't get noticed without a youtube explosion or some money backing you. I'm cool with that. I think the thing that separates me is that I'm talking about real things in a way that can identify with all sorts of people. I've collected experiences from so many different angels and I feel that is my biggest edge. I'm somewhere in the middle and hopefully that means I can resonate with alot more groups of people instead of focusing on one niche. I've got a strong team working behind me and worst case scenario, I could bow out tomorrow and be happy with the music I've made.
R.I: So what's next in store for Natural?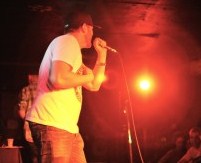 Natural: First off I'm getting some videos shot. Second off, I'm booking more and more shows around the New England area. Third, I'm going to work my ass off to get some of my material into some of those major films. Soon as I get the word that I've got it, you better believe I'll be blasting it all over the place! On top of all that I'm looking to collaborate with other artists not only to have such awesome music to join in on but also to learn from and experience good music that others create. Hopefully with all these things in place it will take me to a higher level where I can reach even more people. I'm really excited.
Anyone that is interested can keep up with my exploits here and of course the fan page on facebook or my twitter @Natural617. Shoot me a message…I love talking to people! And no matter what I'm always working on new material…I drop freestyles left and right and am looking to have a new mixtape out by late Winter.
Natural's 'The Bartender' Mixtape is available for FREE download, courtesy of DatPiff.com. Check it out below: