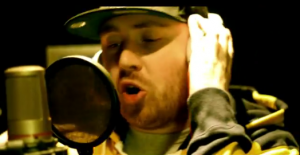 If you were asked to name an Irish rapper, what name would be first to spring to mind? Who has worked with some of the top rappers in the world? Who has broken down the doors to BBC, Kiss FM, and put Irish Hip-Hop on the map? His name is Rob Kelly, and this week he announced his retirement.
Here, in his own words, Rob Kelly explains the biggest decision of his career.
Kev Storrs: You have obviously been considering this for some time; what led you to the decision of retiring as a rapper?
Rob Kelly: Well it has been weighing on my mind for some time and I had said last year I wanted to be done by June of this year. I've been here ten years; I've done a lot. I feel like I could call time now and be happy with what I've done because the reality is this; I started as a fan and I still am. When I started I had no plan; the only plan was to be on the radio saying my rhymes that I had for 7 years. I didn't really know it would turn into what it did, but you know all good things come to an end. I feel like I get better every year like Bernard Hopkins but I wanted to go out on a high. I had a great last 12 months music wise and every release I put out seems to do as well as, if not better than, the last one in terms of achievements. I used to say I would rhyme until I was 40 but you know, I'm 35 next month and I have given this a lot of time and I just want to do something else.
KS: You mentioned that there is still music to be released, still videos to drop… is there a finite supply? Will you simply be releasing what's left in the pipeline and moving off into the sunset, or will this be just a retirement from live performances?
RK: I have more records than 2pac in the bunker. Honestly I have been recording straight for the last 2 years and I am still putting the finishing touches to "Black Irish Rogue", which I actually have a record deal for. I am back with Mathman, Scimon Tist, Danny Diggs a couple that I have the magic with. I always wanted the album to be my "Iife after death" and it has that shape in terms of variety of styles.  I have this E.P of a load of stuff that didn't make the album called "Kel Terrible". I have another couple of projects that I don't want to say anything about just yet but they will all still come out. The videos will obviously be out to push the album but I won't be performing again. My last show is next monday at Danny Brown. It's not a joke; Flip is flying in from Helsinki to make the show so I hope I get to see everyone there. I have a single we are putting out on Ruairi Hartigan's 'First Son' that will have one of the best rappers in the world on it, my favourite artist currently.
KS: Many, myself included, would say that your recent tracks have been some of your most on point verses to date, and that with big video releases like "The Real Thing" you were right on the cusp of something really big. Does the fear creep in that you may leave the game with the breakthrough so close?
RK: I agree with you, I feel every new one is better than the last one, but you can feel like that forever.  "The Real Thing" did great for me; record of the week on BBC 1xtra with Nick Bright, as did "Game Over" before it, with the BBC's, The Kiss's, the 2fms, The 104s, the beat 102.3 air play. Those are great moments and great memories to have but at the same time you can be riding high on music and then life will come and get you and the music doesn't seem to matter as much, so I don't really it much mind.  I feel like I had a lot of nearly moments but think about it; I am white, from Ireland, not even from Dublin, from Wexford, and I been all over the world. I been almost sued by the Dropkick Murphys. I have been signed to TV deals. I had my own label with distribution. I have met and performed with almost all of my idols. I did my fire in the booth etc. So for me to even have nearly moments is so against the odds and the good thing I can take from it is it was all from talent; I never had a manager or a publicist so it was all work and people recognizing my ability and maybe that's enough.
KS: In coming to this decision, on some level you obviously came to conclusions about the current state of the music scene in Ireland. Do you feel the conditions are right for any Irish rappers here to make the "big break"?
RK: Well it's not even that but the music situation here is so messed up. Honestly not just for rappers but for musicians in general. 2fm is the national station, load of support there from great people there, but you would have more chance of getting hit with a meteorite than getting day time playlisted on 2fm as an Irish act; It's almost impossible. The [Original] Rudeboys, one of the biggest bands in Ireland, when do you hear them on RTE in the day? Never. Republic of Loose? Never. They only support when you blow up somewhere else and that goes for every successful Irish act; The Script, The Corrs, Maverick Sabre.  As far as Hip-Hop, I don't even respect a lot of these journalists views on hip-hop in Ireland. I said it before and Jim Carroll got mad at me on his blog over it but there are only a handful of music journalists that are even qualified to talk hip-hop.  They have no foundation in it. That annoys me.  As far as the rappers getting their big break, I don't mean this to sound anyway arrogant but that conversation is only real because of me. Because before me you had what Scary did, and honestly I have had my ups and downs with Mek and Ri Ra over certain things said over the years but they had a big influence on me and showed me from age 13 I could do what I wanted to do. You had MJEX who had a certain level of success. Anyone can say what they want but the ONLY one who has consistently year in year out done things big is me.  As far as a "Big Break"  people make their own luck in life so if they are good enough and work hard enough they can get something out of it but I wouldn't blow the retirement fund.
KS: You said it won't be a "Black Album" moment, referencing Jay-Z's short-lived retirement. Is there anything that could change your mind at this point?
RK: Who knows? I can't tell what is going to happen in the future.  If the people want it who knows maybe I could return but for now I am just wanting to leave on a high, show what I can do and relax a little bit and enjoy life.
KS: You have probably had the most eventful and storied career of any Irish rapper, from working with Memphis Bleek, 16 Bars, to getting love in the UK, the US and around the world; what do you look back on as some of the highlights of the last 10 years or so. 
RK: I'm actually documenting some of this at the moment with this "Bobby Bars True Rap Stories" with my man James Bell. We started shooting last night and are putting out some Webisodes and stuff telling all the stories and mad things that have happened to me.  I have so many highlights but people know how big a fan of Jay-Z I am, so I suppose getting him the Celtic Scarf was a highlight and being on stage when he performed at Oxegen. But in general, being friends with Bleek is like one of the oddest things to come out of it because we come from completely different backgrounds but he is one of my best friends; I would ring him before ringing someone in Ireland just be like "whats up". When you see how big Action Bronson has become and the fact that it was Big Body Bes who told him about me and Tommy and them asked me to do song with him etc. Things like that. Mayhem from SAS; another good music friend he understands where I am coming from.  I don't know; so many highlights I can't even really name one. Things like Apathy telling me I'm dope and wanting to work with me. Just having people like Hex Murda and Sean Price, who are people I look up to, to have them say on Twitter that I'm nice is like more than selling any records or anything. I am from Ireland, I'm not supposed to be part of the conversation.  That's all nice.
KS: Being so heavily invested in the Hip-Hop game, can Rob Kelly re-invent himself away from the music industry? I can't see you being content in a regular job as an accountant or salesman; will you now move into the business side of the game? What does the foreseeable future hold for you?
RK: Well I can't ever not be in love with Hip-Hop. I was telling Mathman I still feel the same about other people's music; I bought 2 albums yesterday off itunes. I still check the blogs every day I wake up.  I don't know what I will do but like I said there are a couple of projects; I am kind of involved loosely with trying to get a record deal done for an Irish act with a big international label and hopefully that gets done and we can focus on more of that but for now, expect The Bobby Bars True Rap Stories, Kel Terrible EP, video for a new song called "Chubby Checker" which I will let go of soon and The Black Irish Rogue. Shout out Rap Ireland for all the love over the years.
Brand new Rob Kelly – Chubby Checker: