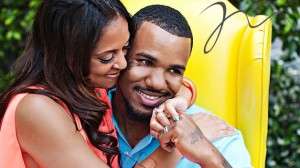 After The Game's wedding was called off in a dramatic turn of events last week, it has been reported over the weekend that the rapper's nuptials are back on, and that the cameras are back rolling.
Game was due to marry fiancé Tiffney Cambridge, mother of his first two children, in a ceremony that would be the focal point of a reality TV series, but things became seriously derailed last week as the rapper took to Twitter to confirm that the wedding was most definitely off the cards.
"The rumors are TRUE. The wedding is OFF. It's not her fault, it's mine! She's a GREAT woman,"
Game later added "Just in case you blogs think I cancelled wedding on some kool sh-t.. I didn't.. She did cuz of my web of lies, cheating & lack of presence."
Since then it has been reported by TMZ that the two are back together, with the wedding on schedule for August, complete with camera crew and reality show.