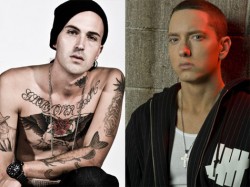 Since Shady 2.0 killing the Cyphers at this years BET awards, Yelawolf has been preparing to drop his new album 'Radioactive' later this month. Last night, the rapper also performed in Dublin's Olympia Theatre, supporting Wiz Khalifa.
Now the eagerly awaited track with his mentor Eminem has surfaced."Throw It Up", Yelawolf's third leaked single from the forthcoming album, also features female rapper Gangsta Boo, formally part of Three Six Mafia. This kind of collaboration only happens once in a life time, so instead of me describing the track, listen for youselves and tell us what YOU think after the drop.
Don't forget to check out our exclusive interview with Yelawolf tomorrow on Rap Ireland!
Incase you missed Shady 2.0 ripping it up at the 2011 Cyphers, check it out HERE!